Opera 12.10 is available -- get it NOW!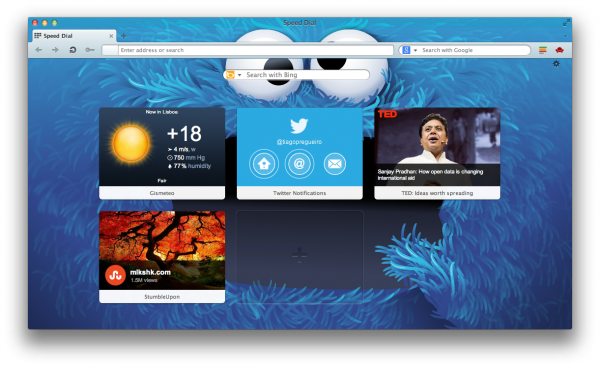 Norwegian cross-platform browser Opera 12.10 has been released, promising support for more powerful extensions, the SPDY networking protocol and a number of platform-specific enhancements.
Mac users gain Retina Display support and Notification Center integration in Mountain Lion, for example, while the Windows build, also available in 64-bit, adds support for two additional touch gestures in Windows.
Opera 12.10's touch feature support now includes both inertia scrolling and pinch-to-zoom on Windows 7 and 8 PCs with a touch-enabled display. Notification Center integration in Mountain Lion allows Opera to use that for notifications such as completed downloads. Another Mountain Lion feature added to Opera 12.10 is support for built-in sharing of pages to Facebook, Twitter and more. Retina Display support has also been added with this release.
Cross-platform improvements include support for the SPDY network protocol, which is used to accelerate the loading of well-known websites including Gmail, WordPress and Twitter.
Also added is support for the color-profile standard ICC v4, which allows the browser to include ICC profile information embedded in an image's metadata when displaying it on-screen, a process that allows photos to appear as the photographer intends them to.
When it comes to powering up future Opera extensions, version 12.10 adds support for a number of protocols that allows developers to include more functionality in their extensions, from context-menu support to high-DPI screen support for Retina Displays.
A number of Web and HTML5 standards have also been added, including partial support for FullScreen API for web games that want to utilise the entire screen without distracting elements such as program windows. Support for the Page Visibility API may aid developers in allowing their sites to automatically suspend power-hungry actions when their page loses focus (such as when a user switches tabs).
Other standards added include Web Sockets for multi-user interaction through your web browser –Opera provides a demo showcasing this feature. As well as additional CSS3 standards, Opera 12.10 also supports a number of unprefixed CSS standards, including transitions, gradients and flexbox, ensuring compatibility with a greater number of websites.
Opera 12.10 is available as a freeware download for Windows 32-bit, Mac and Linux. Opera 12.10 64-bit is available as a freeware download for 64-bit versions of Windows.