Google updates Play Music app, announces European availability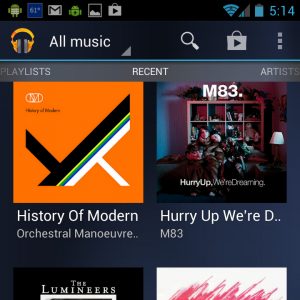 Google Play Music launched last year, beginning its life known simply as Google Music, growing up quickly since its humble private beta beginning. The app and web service officially launched in late 2011 and have grown quickly since then. Now the latest update has just been pushed out today to Google Play. The search giant also recently announced availability of the store and also Nexus devices in Europe and Australia as well as in the United States directly from Google and T-Mobile.
First, as for the brand new Play Music update, Google has added several features that should enhance the user experience. The update rolled out quietly without any official press release or even a post to their Android blog where these announcements frequently appear. So what is new in version 4.4.811H you ask?
The added ability to keep Thumbs Up, Last Added, and Free and Purchased playlists on your device.
Auto-generated Instant Mixes on the Recent tab based on your favorite songs
Gapless playback support (which requires Android 4.1 or later)
Improvements for keeping music on your device for offline playback
While personal opinion and tastes will vary here, I find that the offline features and Instant Mixes seem to be my favorite parts of this update. The Instant Mixes uses your past listening history to generate musical playlists in a similar fashion to Pandora, while the new offline feature allows you to click a radio button to the right of your music and choose what songs and albums you would like installed on your device for those pesky times that you are out of range.
Second, tomorrow, November 13th, marks when several Nexus devices and Google Play will finally become available in more markets, according to Android chief Andy Rubin. Officially, the Nexus devices will be available in Australia, Canada, France, Germany, Spain and United Kingdom, while Google Play will be accessible in France, Germany, Italy, Spain and United Kingdom.
This is really something for everyone, with Play Music fans like myself getting a few cool new features and our friends across the Atlantic and Down Under finally getting access to Google Play and the new Nexus devices including the Nexus 4, Nexus 7 16GB, Nexus 7 32GB and even the Nexus 10, which also comes in the same two storage sizes as its smaller brother. So who is ready to grab a brand new handset or tablet and get started uploading their music to the cloud for playback anywhere?