Spybot - Search & Destroy gets a major update on Monday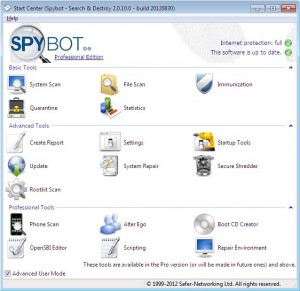 You may think you don't need additional security on your Windows 8 machine because it comes with Defender built in. Think again, because no single program is capable of finding and blocking every threat out there. One of the best complements to any Windows PC is third-party software that is capable of scanning, blocking and removing troublesome problems like spyware and malware that get into your system.
One of those third-party scanners, Spybot - Search & Destroy from Safer-Networking, is set to release its complete version 2.0 next Monday, The software is currently available in its third release candidate revision, which you can download in FileForum right now if you want to get a quick look at what to expect on Monday.
According to the Irish company, "The software has been completely rewritten and now has a new user interface as well as improvements in functionality and performance."
Before we get to what is new, let me just point out that no features appear to have been removed -- meaning the app still scans your computer for malware and rootkits, provides system immunization, and even can scan your iPhone profile. It also still allows users to control processes that run at startup and checks for registry errors.
As far as new features go, there is a new adware toolbar that provides scan and fix options, a new user interface, and Windows Security Center integration. The company claims a faster startup and scanning time and users can now scan network drives in addition to local ones. Finally, the app will also provide automatic updates for Premium users.
As previously stated, Spybot - Search & Destroy will be released this Monday and we will have a review at that time. Personally, I am most looking forward to the new network drive compatibility and updated UI. If all of the new features work as advertised, it should be a major improvement overall.