Firefox for Android update supports older devices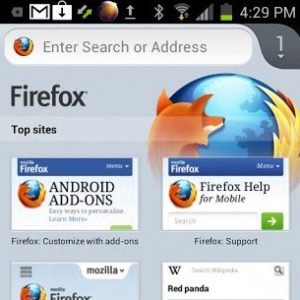 Parent company Mozilla announced that Firefox for Android now supports older green droid devices using ARM v6 architecture. The latest update allows the open-source browser to run on smartphones such as HTC Status, Motorola Fire XT or Samsung Galaxy Ace, but also looks to the present with improvements for newer versions of Android.
Mozilla claims that limiting Firefox for Android to run solely on the ARM v7 architecture would eliminate "roughly half of the nearly 500 million Android phones", obviously making a dent in its market share and popularity among green droid users. The minimum hardware requirements now involve an 800MHz ARM v6 processor accompanied by 512MB of RAM. What about less "ancient" devices?
On Android 4.0 Ice Cream Sandwich and 4.1 Jelly Bean Firefox for Android now comes with hardware and software decoder support for h.264 video, while on the latter there is also support for Explore by Touch. Overall Mozilla claims a smaller profile size as well as IO improvements from SafeBrowsing.
A crash after upgrading to Android 4.2 Jelly Bean is now fixed and text deletion issues are sorted. Sandbox attribute for iframes is implemented and initial support for web app is added to the latest version of the open-source mobile browser. Firefox for Android is available for download from Google Play.