Beautiful Clock Widgets: Get more time from Jelly Bean lockscreen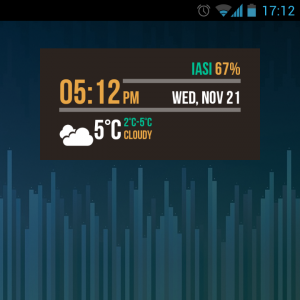 Android 4.2 introduced the ability to add widgets on the lockscreen, allowing users to view more information without unlocking the device. Beautiful Clock Widgets is an app designed to take advantage of the new feature by offering a large selection of time & weather widgets.
Beautiful Clock Widgets can display more comprehensive information than the default Clock widget that Google offers. Users have access to the typical time (in AM/PM format) and date, but also to humidity percentage for the selected location as well as current temperature with minimum and maximum values of the day and a short status like "Cloudy". For every feature a different color can be assigned (for instance red for location, green for weather, purple for background, etc.).
Adding new lockscreen widgets is done in typical Android 4.2 fashion by tapping on the "+" sign found on the last window on the left. There are two options available at the moment: a 4 x 2 and a 4 x 4 widget. The former tracks down one location with weather information, while the latter is only capable of displaying one. After the selection is performed the new widget appears on the lockscreen.
In order to appear every time the device is unlocked, the widget has to be moved to the furthest lockscreen location on the right. Beautiful Clock Widgets is available to download from Google Play.