Nokia HERE for iOS will get you where you want to go [review]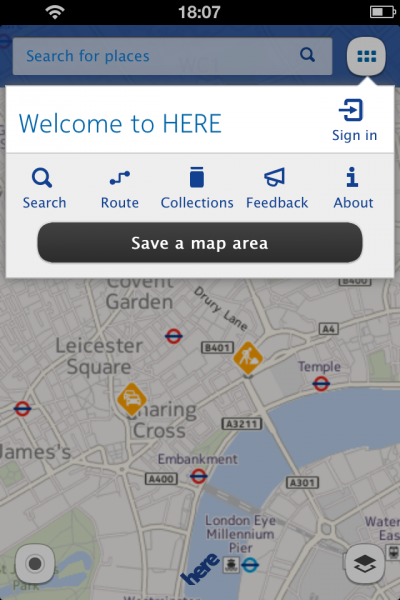 If you want to get directions on an iOS device, you have two main options. 1) use Apple's built-in mapping app to go to somewhere other than intended, potentially risking your life and the lives of your passengers along the way, or 2) fire up the mobile version of Google Maps, which is good but not as great as the old app that vanished when Apple decided its users would be better off with sketchy, featureless maps and inaccurate directions.
Thankfully, while Apple's map team is trying to push its Toyota Prius out of a field that should be a freeway, and Google is still putting the finishing touches to its shiny new Maps app, Nokia has arrived to save the day with HERE, a mapping and location service powered by NAVTEQ data (as used in the majority of in-car navigation systems).
When you launch HERE for the first time you're greeted by a welcome message which states the following: "All the services may not be available or accurate at all times". I know it's a simple legal disclaimer, but really that doesn't exactly instill you with confidence from the off.
Anyway, once loaded the app accurately found me on a map and correctly identified the name of street I live on (Prince's Drive), thereby immediately scoring more points than Apple Maps, which got the road name wrong (Princess Drive).
HERE's maps are simple, but decent enough, and the app has some great features. Tapping the little icon at the bottom right lets you switch between Map view, Satellite view, Public Transport view and Live Traffic view, and there's a separate Traffic option which, when turned on, highlights nearby points of concern, such as accidents, construction work, congestion and other issues, helpfully color coding them for importance and letting you choose which to display. Zooming out slightly, HERE identified a spot of congestion that I knew must be accurate as my wife was running late (she's just arrived and confirmed this).
When I originally tested out Apple Maps I asked for the route from my home to the seaside town of Blackpool (I live in the UK) and was directed in totally the wrong direction. No such problem with HERE, which came up with the correct route, provided directions that were easy to follow, and marked the areas where I would have expected to have encountered delays.
HERE lets you switch between driving, walking and public transport but can't provide walking directions for longer than 30 miles (so is no good for anyone planning a jaunt from Land's End to John o' Groats) and didn't seem able to find any public transport to take me from one train station to another, even though it was a direct line. Still some work to be done there, Nokia.
HERE lets you save map areas for offline viewing, albeit in limited resolution, and store places in collections (you'll need to sign in to do this). It can provide information on nearby locations of interest in major cities, such as places to eat, shop and sights to see, and there are photos of a few cities available too, but nothing to get excited about.
Nokia's app isn't perfect, and it's certainly no Google Maps, but for the moment it's the best mapping option on iOS 6 by some way, and will likely only get better.
The app incidentally is also available on Android, but only through Amazon's app store. That said, there's currently an unofficial version of it available on Google Play if you want to grab it from there.