Notification Weather available at a swipe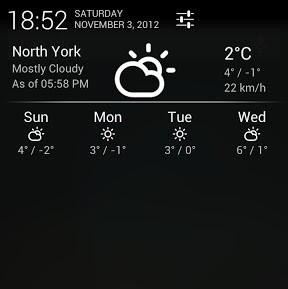 The notification toolbar is commonly altered by manufacturers to include toggles, but what about a more down-to-Earth feature? Android is known for its customization prowess, and weather information can be delivered by a simple swipe using Notification Weather.
Instead of going over the top, the app takes a conservative approach by employing a look and feel that could even pass as stock functionality. It bears an uncanny resemblance to CyanogenMod 10's lockscreen implementation. For the present day Notification Weather displays the location, status ("cloudy" for instance), characteristic pictograph (cloud, drops, etc.), current temperature with minimum and maximum values of the day as well as wind temperature.
Diving briefly into the future, the app shows a pictograph, minimum and maximum temperature for the upcoming four-day period as well. In order to minimize used space, Notification Weather allows users to disable the feature in the Settings menu and only display information for the present day.
Other settings that can be adjusted include toggling between Metric and Imperial units, refresh interval, adding a statusbar icon, priority and starting at boot. To save battery setting the location manually and using a higher refresh interval are recommended.
Notification Weather is available only for Android 4.1 and 4.2 Jelly Bean and can be downloaded from Google Play.