Google Shopping lies to consumers, Microsoft says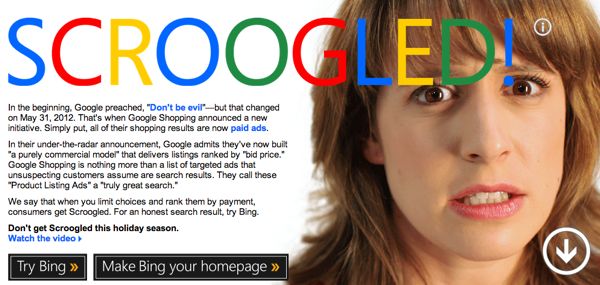 Microsoft's search engine Bing launched an aggressive information campaign against Google on Wednesday, accusing the leading search engine of dishonesty in its shopping search functionality.
Earlier this year, Google Product Search was renamed Google Shopping. This name change was no superficial affair because Google was completely changing the business model of the service. Under Google Shopping, only retailers who paid for product listing would turn up in search results.
At the time, Google justified the change as an impetus for retailers to put up the best information.
"We believe that having a commercial relationship with merchants will encourage them to keep their product information fresh and up to date. Higher quality data—whether it's accurate prices, the latest offers or product availability—should mean better shopping results for users, which in turn should create higher quality traffic for merchants," an announcement from the company says.
Bing's campaign says this "pay-to-rank" practice gives users search results that are not true because they differ from general search results.
"We think that too many shoppers who use Google for their shopping searches are getting 'Scroogled' when they should be getting fair, honest, open search. It's like Ebenezer Scrooge met Google Shopping. We think consumers should be aware what they're seeing when they're shopping online and to understand, without any hidden text or traps, the fine print of what their 'search engine' actually searches," said Mike Nichols, Corporate Vice President and Chief Marketing Officer of Bing on Wednesday.
Bing's information campaign includes a new website called scroogled.com which lists "alerts" that warn consumers of this type of search listing, and suggests the use of Bing instead "for an honest search result."
The timing of this campaign has clearly been chosen to coincide with the holiday shopping season, but it coincidentally falls alongside the Federal Trade Commission's ongoing investigation into antitrust violations by Google.
Along with Oracle, Microsoft is one of the biggest backers of the Fair Search lobby, which says that Google's dominance in search means fewer choices for consumers, and ultimately higher prices on products. Other members of the lobby include Tripadvisor, Kayak, Hotwire, and Expedia.
The Federal Trade Commission Act, according to the FTC itself, "bans 'unfair methods of competition' and 'unfair or deceptive acts or practices,'" so accusing Google of deception in product search broadens the scope of Microsoft's antitrust allegations.