Sprint made my cat a video star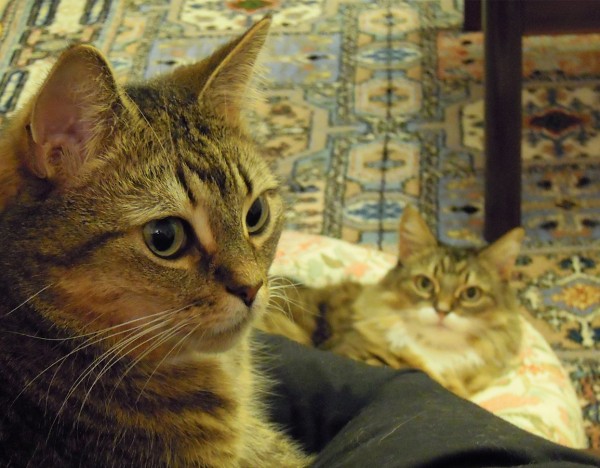 I have two cats, Charlie and Chloe. Charlie is very talkative, especially when he's hungry (which is most of the time), and indeed you can often have lengthy conversations with him. So when, in 2009, YouTube user Andrew Grantham (klaatu42) put out a call for clips of talking animals to appear in a new Christmas video, I filmed Charlie requesting more food and uploaded the 30-second snippet. I was very fortunate, because not only was my submission accepted but my cat was used to sing the opening lines to Deck the Halls.
It was a fun video, and clearly found an audience -- as to date over nine million people have watched it. But Charlie's fleeting fame wasn't to stop there. A few weeks ago, out of the blue, I received a slew of increasingly frantic messages in my YouTube inbox from the Leo Burnett advertising agency.
I rarely upload videos to YouTube and never use the messaging system (indeed I've turned off all email notifications) so the messages passed me by for several days until eventually the sheer number of unread attempts at contact caught my eye and I took a rare trip inside my inbox.
At first I thought the messages were just spam. Headings like "Would like to use your video in Sprint Commercial", "Please respond by Monday Nov. 5th: Release for Sprint Project" and "Last Try: Will pay to use your video -- Not a Scam" made me think they were just phishing messages. But as I read a couple I realized that wasn't the case.
An advertising agency actually wanted to use a clip of my cat in a new commercial for Sprint.
I'd missed the first deadline to respond, and also the second one by a day, but fortunately my hastily dashed off permission beat the absolute cut-off.
I knew nothing about the commercial, just that it was for Sprint, would appear in time for the holidays, and I'd be paid a one-off small fee. The money was a nice bonus (especially as it was for a video I'd pretty much forgotten about), but really I was just happy that Charlie -- a friendly, sleepy, seemingly perpetually hungry cat from the north of England -- was going to appear in a commercial on American television.
I wasn't told when the advert was to run, but a spot of Googling revealed it was for a Thanksgiving/Black Friday offer. Sprint uploaded the ad to YouTube, so I was able to watch it there.
Charlie is again the first pet to start the singing and best of all, he's the only one to appear full screen. All the other animals are shown on Samsung Galaxy S IIIs as the video is passed from device to device. Instead of Andrew Grantham's amusing dubbing, Sprint has used a tuneful meowing. The video ends with an offer to save $150 dollars on Samsung's phone. Charlie, who has in the past knocked my S III on to wood flooring from various desks, tables, chairs and units, would probably suggest considering insurance.
So is that the end of my boy cat's fame? We shall see. While it's highly unlikely he'll appear in a TV commercial again, there's the possibility of a cameo in this year's YouTube singing animals Christmas spectacular, which Andrew Grantham is currently putting together. I've submitted new clips of Charlie and -- for the first time -- Chloe for consideration.
Of course if any talent agencies are reading this, both of my pets are available for work. Charlie charges a little more though, and won't get out of bed, or out of anywhere comfy for that matter, for less than 350 calories a day. Chloe is happy to accept a good brushing and a handful of biscuits but may not speak on demand.
Photo Credit: Wayne Williams