Microsoft Surface with Windows 8 Pro arrives in January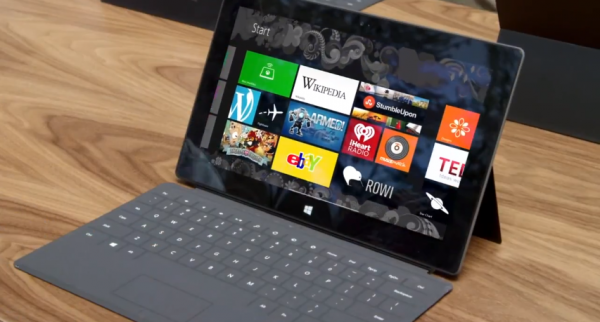 When Microsoft announced the Surface product family a few months ago, I was immediately drawn towards Surface Pro, and not Surface with Windows RT. Imagine my disappointment when Microsoft went silent again after the revelation of the company's first entry in the tablet market. Essential information like price or availability were missing at that point in time, and it was shortly before launch of the device that Microsoft revealed anything meaningful.
There was no word on the Surface Pro though, until now. Tami Reller, Windows and Windows Live Division chief marketing officer, reveals at the Credit Suisse Annual Technology Conference 2012 that Surface Pro will launch in January 2013. Today, Microsoft also revealed pricing: $899 (64GB); $999 (128GB).
We also have talked about -- I keep losing my clicker here -- we have also talked about not only Surface RT, which is shipping today, but we also back in June talked about the Surface with Windows 8 Pro, and you're seeing here a picture of Surface with Windows 8 Pro, or Surface Pro as we often refer to it. You'll see the same kickstand, the same covers work with Surface Pro as well, and you'll see the pen with Surface Pro as well.

And we talked about back in June that Surface Pro would be available in early 2013. And, in fact, Surface with the Windows 8 Pro will be available in January. So, there you see a picture of both. So, we're very excited about Surface, and how customers are reacting to Surface RT, and the excitement for Surface Pro for sure.
Timing and pricing give us another piece of the puzzle. But Microsoft has not revealed other essential information, such as full hardware specs, or how well the battery performs.
Surface Pro Features
Here is a short list of features that Microsoft has revealed about Surface Pro:
Intel Core i5 processor
On-board Intel HD Graphics 4000
10.6-inch ClearType Full HD 10-point multi-touch display (Surface RT has a 5-point multi-touch displays and a resolution of 1366 x 768 but uses the same dimensions)
4GB RAM (Surface RT has 2GB)
64GB or 128GB storage
Pen input and pen included with purchase
48W power supply
Full USB 3.0 port (Surface RT has a USB 2.0 port)
Surface RT and Pro Main Differences
The main difference between Surface with Windows RT and Surface with Windows Pro besides hardware is the operating system. Surface RT users get Microsoft Office included with their device and access to Windows Store apps. What they can't do is install legacy x86 applications on their device, which Surface Pro users can.  That's the main reason I'm interested in Surface Pro and not RT.
Price
German retailer Notebook.de may have leaked the price for Microsoft's Surface Pro device when it started to accept pre-orders its website in the beginning of November. The 64GB version of Surface Pro was listed at EUR 809 including VAT, which is about US $1,050, while the 128GB model listed for EUR 909 or US $1,180.
The 64GB Surface with Windows RT and touch cover is currently sold by Microsoft for $699. Before today's pricing announcement, if I had to estimate, the 64GB model would start at $899 or maybe even $999, the 128GB version likely at $1,099. Real pricing, and that's without keyboard cover, is $899 and $999, respectively.
What's your take on Surface with Windows 8 Pro? Are you considering buying the device or is it something that you are not interested in at all?