At last, Microsoft Surface with Windows 8 Pro priced on German site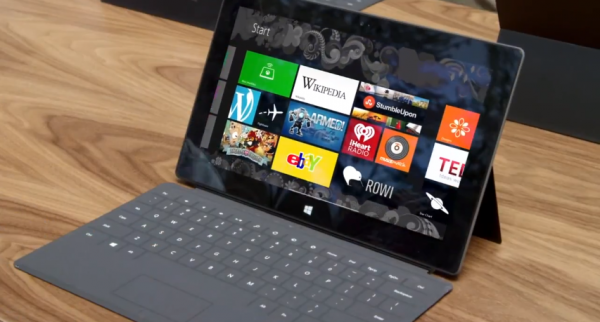 Microsoft Surface with Windows 8 Pro is a pricing mystery. The Redmond, Wash.-based corporation revealed the price for the ARM-powered branded tablet, but left its more powerful counterpart --the one equipped with Windows 8 Pro-- unpriced. But recently, information on the latter surfaced on a German website.
Microsoft Surface with Windows 8 Pro was introduced to the Notebook.de "Surface tablet" lineup, and it is currently available for pre-order in two storage options. Pricing for the entry-level model that comes with 64GB of internal storage starts at EUR809 including VAT (Value Added Tax), and the version with 128GB of internal storage runs for 909EUR including VAT. The 64GB Microsoft Surface with Windows RT runs for EUR699 on the same German website.
Notebook.de displays Surface with the Touch Cover in place, and does not list a version without it. This could suggest that Microsoft won't follow the same pattern it did with Surface RT, which can be purchased without the Touch Cover keyboard at an even lower price.
In case you missed the specs, here's a rundown of some of its highlights: 10.6-inch Full HD ClearType display with a 1920 by 1080 resolution and 16:9 aspect ratio; 3rd generation Intel Core i5 processor; integrated Intel HD Graphics 4000; 4GB of RAM; 64GB or 128GB of internal storage; Wi-Fi 802.11 a/b/g/n; Bluetooth 4.0; 720p HD cameras front and back and 42Wh battery. Due to local laws in the European Union, it will carry a two-year warranty. In the United States, it is listed with just a one-year warranty.
Based upon this listing, there is a EUR110 price difference between the 64 GB models of Surface with Windows RT and Surface with Windows 8 Pro. While the former is cheaper, the latter comes with a higher-resolution display, double the RAM capacity, an Intel Core i5 processor and an operating system that can also run desktop applications. The latter may appeal to users looking to run software such as Autodesk AutoCAD, Adobe Photoshop, or other applications peculiar to the x86-based computing platform.
At this price, Microsoft Surface with Windows 8 Pro could actually compete with similarly-sized ultrabooks, which could poise Intel for a shift in its presence in the consumer tablet market. Right now, there is fierce competition in that market, especially among component providers. Yet in the Ultrabook space, it's pretty much Intel's game (given that the company actually coined the term "Ultrabook.") The chipmaker still isn't a player in the mobile tablet space, where the likes of Samsung, Qualcomm, Nvidia, and of course Apple, are the dominant chip suppliers. With this model of Surface, Intel can serve the needs of ultrabook users with a tablet and in turn grow its share of the consumer tablet market.
The German website lists it as "deliverable in 3-4 weeks," but this must be taken with a grain of salt, as Microsoft has yet to announce official pricing and availability.