Google pushes to keep the internet free and open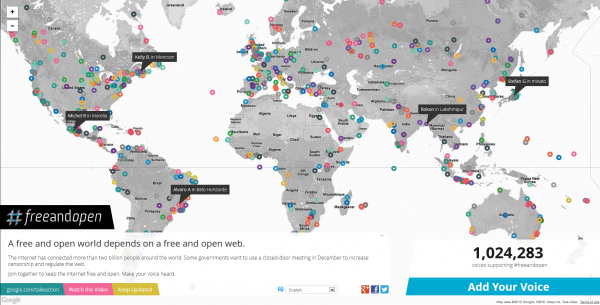 It's no secret that a lot of the world's governments want the internet to be regulated. Two months ago, I wrote an article on how the Saudi government, fired up by The Innocence of Muslims video that YouTube was refusing to pull, had made a submission to the World Telecommunications Policy Forum, calling for the creation of a new overseer designed to censor offensive content on the Internet.
That particular event is scheduled for May, but starting today, at a closed-door meeting of The International Telecommunication Union (ITU) in Dubai, world governments will be discussing, among other things, internet regulation and will be looking to revise a decades old treaty that could allow more oppressive countries to justify the censorship of free speech, and even cut off internet access if they so choose. You can see some leaked proposals on the WICITLeaks website.
Whatever your views on Google, there's no question that the web giant has always been a proponent of a free and open internet (it's necessary for its success and survival after all), and in a new blog post Vint Cerf, Google's chief internet evangelist, and one of the "fathers of the internet", discusses the potential ramifications of the ITU meeting.
Google has set up a petition so you can pledge your support to a free internet. You just need to fill in your name, email address and location (a link will tell you what Google intends to do with your information). You can also help to increase awareness via Google+, Facebook, and Twitter.
You can see the names and locations of people who have signed the petition on an interactive world map, with the latest additions flashing up in real time. As I write this, the counter currently shows over a million people have added their voices so far, but this figure is increasing at a rate of around 600 signatures a minute and will likely speed up once more people get to know about it.
Will you be adding your name to Google's petition?