The social contract between business and society is in danger of breaking down, says Gartner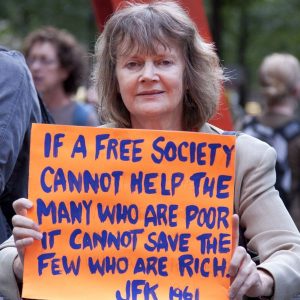 In a new report released under the Maverick Research brand on Monday, IT market research company Gartner said the Capitalist structure as we know it is being threatened by "Web-inspired values."
The next generation of workers, the study suggests, will have a more democratic and egalitarian approach to decision making, and the increasing gap between the elites and the "99 percent" will have to be bridged with new social technology.
According to renowned Dutch organizational culture researcher Geert Hofstede, the United States already has a relatively low power distance index. The country was founded on the premise of "liberty and justice for all," and frequent communication between the management class and employee class is normal.
Though there is a moderate communicative corporate culture in the U.S., most companies employ top-down, hierarchical leadership. In recent years, the immense wealth gap between capitalist class leaders and the middle-, working-, and working poor class employees has been an issue of intense debate.
"The social contract between business and society is in danger of breaking down, as the majority (the 99%) questions more than ever why it tolerates growing inequality for the minority," the Gartner report says. "Trust in the capitalist system is eroding."
As the rich continue to get richer, Gartner says, dissatisfaction with the system increases. If a company isn't actively engaged with its employees and shareholders, the dissatisfaction with the system turns into disloyalty to the company. In other words, it results in more shrinkage (employee theft), higher employee turnover, and more aggressive shareholder activism.
Gartner identifies technologies that can be embraced by companies looking to embrace "social capitalism," including sentiment analysis engines, as well as post-employment analysis on sites such as LinkedIn and Xing to find out "disengagement drivers" that cause employees to seek new jobs.
Collaborative decision making (CDM) and corporate performance management (CPM) software tools are also ways to bridge the gaps between leaders and employees, and shareholder collaboration sites like ProxyDemocracy and FairPensions can bridge the gaps between leaders and shareholders.
Ultimately the goal of these technologies is to "bring the 99% inside the walls of the enterprise to become part of the organization."
Gartner's report, "Maverick Research: Capitalism Goes Social, or How Technology Will Enable the 99% to Change Your Business Forever." can be obtained on the company's website.