Turn your Android device into a mouse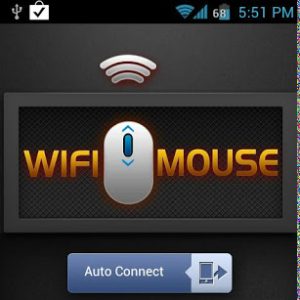 Smartphones and tablets can take on many roles, like delivering recipes in the kitchen to beginner chefs or entertaining owners with kitten videos during their commute. However, the very same devices can also be used to control PCs through an Android app like WiFi Mouse.
As the name might suggest, the app allows green droid smartphones and tablets to operate as wireless mice, that can be connected to a Mac OS X or Windows PC. The interface is fairly simple to use as it employs a classical three-button layout, with a scroll wheel in the middle, and touchpad-like surface. Even though modern mobile devices come with motion sensors, WiFi Mouse still sticks to the tried-and-true touchscreen interface, which is more accurate, to move the cursor around.
Tapping on the display equals to a left mouse button click, but for a more comprehensive control the classical buttons can be pressed or swiped in order to scroll through, select or perform other actions. Users can also modify the mouse and scroll sensitivity, and even adapt it for left handers.
In order to process the actions performed on the Android device, WiFi Mouse requires users to install a server program on the host PC, and input the latter's IP address to connect. There is also a paid version available which brings keyboard support and speech-to-text input.
WiFi Mouse is available to download from Google Play.