New McAfee Mobile Security lets you lock down apps that don't demand logins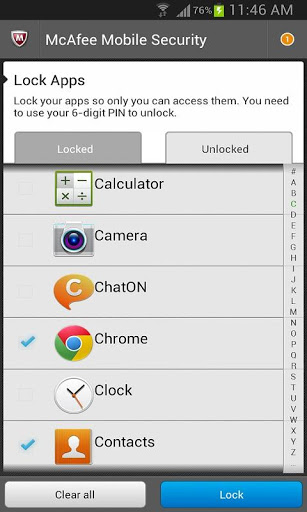 Intel-owned security software company McAfee on Monday released a major update to its McAfee Mobile Security product, featuring a new interface and a new app privacy feature called App Lock.
Though many mobile security suites focus on protecting private information from being stolen and misused, much of the information that is available within apps is left totally unprotected from prying eyes.
When someone logs into Facebook on a public workstation or a friend's computer and they forget to log out, it is usually an invitation for other people to post embarrassing or ridiculous messages on that person's profile. If your mobile device is unprotected, someone could simply pick up your smartphone or tablet and do the same thing without even needing access to your login credentials. What's worse, some shopping apps store credit card information for one-click purchases without additional security.
With App Lock, Android users can demand additional PIN-based authentication for apps such as Facebook, LinkedIn, Gmail, and many others.
In addition to App Lock, McAfee Mobile Security still contains the previously available features such as secure browsing, device lockdown and remote wipe, remote backup and restore, locate and track, call and SMS filter, and uninstall protection.
McAfee Mobile Security costs $29.99 for a one-year subscription, and can be downloaded immediately in Google Play.