Flickr jumps into the photo filter game with new iPhone app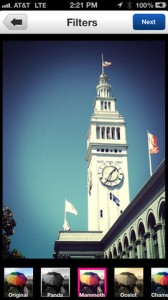 Within the past few days Instagram has divorced Twitter and added a new filter, Twitter got into the Instagram game by adding photo filters and now Yahoo-owned photo sharing service Flickr has joined the fray with its new iPhone app update. You can probably guess where this announcement is going.
Yes, Flickr has added a set of filters that users can access upon snapping a photo. Like Instagram and now Twitter, there are a standard set of filters including black and white and 15 others that are now part of the built-in editor, which also allows you to crop your image right on the spot. You can then share it via Facebook, Twitter, Tumblr or email.
Also included in this update is full groups capabilities, meaning you can add your pictures straight to Flickr Groups right from your phone, and a tilt feature. Tilt works with your device's position -- turn the phone sideways and a picture switches to full-screen view.
Finally, there is a new "Exposure" tab that displays what Markus Spiering of Flickr calls "the most interesting photos uploaded every day", which is certainly a subjective point of view.
You can download Flickr for iPhone from Apple's App Store.