Opera 12.12 releases with tweaked Delete Private Data tool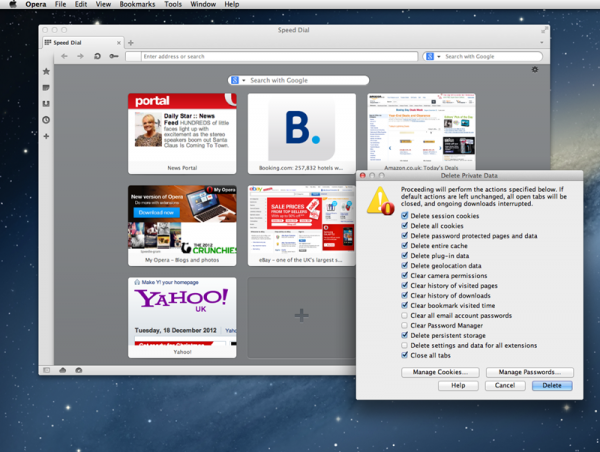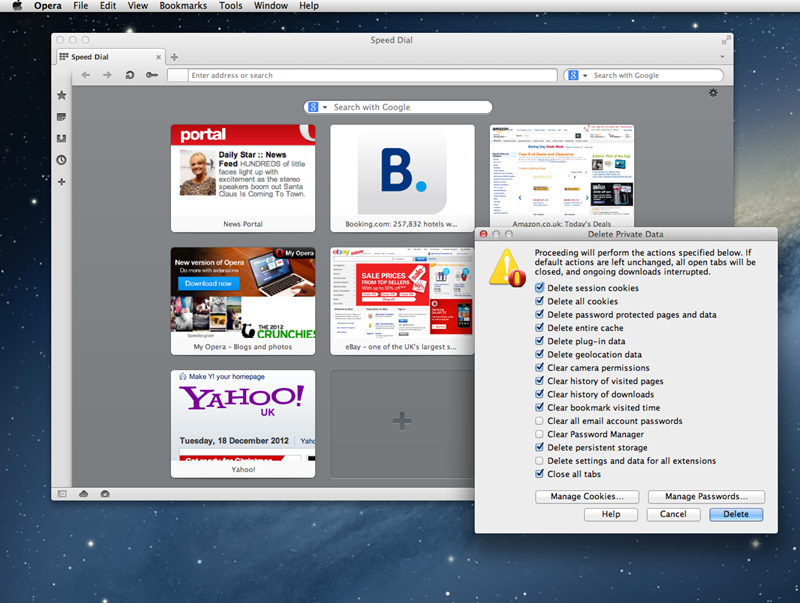 Opera 12.12 has been released for Windows, Mac and Linux. This Norwegian cross-platform browser and email client -- also available as Opera 12.12 64-bit for Windows 64-bit platforms, is primarily a bug-fix release, with emphasis on security and stability.
It does, however, make changes to the Delete Private Data tool, promising a redesign and new option as well as fixing a potentially critical issue.
The Delete Private Data dialog's redesign is primarily focused on making it more usable on smaller displays. Accompanying this design tweak is a new option -- "Delete settings and data for all extensions" -- added to the dialog, which is switched off by default.
These changes are accompanied by a major fix that corrects an issue where using Delete Private Data could result in all extensions and settings data being deleted. Another notable bug fix resolves an issue where quitting Opera in full-screen mode could cripple the interface when the program was next started.
Security patches include one for malformed GIFs, preventing them from potentially being used to execute arbitrary code, plus another that allowed users to trigger address field spoofing through making repeated attempts to access a target site. The only platform-specific fix concerns UNIX users, which closes a loophole that potentially allowed the user's private data to be disclosed to (and modified by) other computer users.
Opera 12.12 is a freeware download for Windows, Mac and Linux. Opera 12.12 64-bit is a dedicated freeware build for Windows 64-bit users.