SAP announces major update to Afaria Mobile Device Management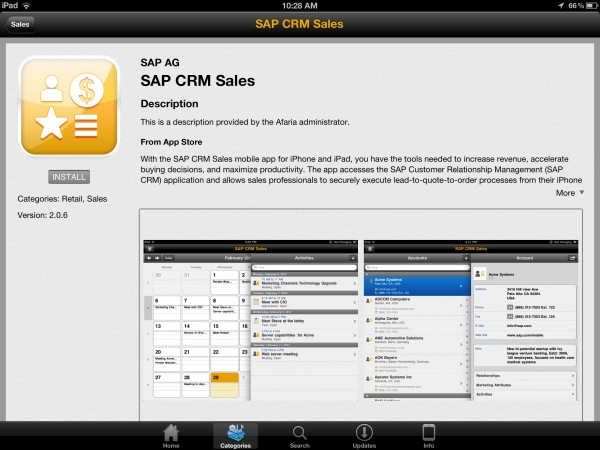 German enterprise software leader SAP on Tuesday unveiled a major update to its Afaria mobile device managment solution which will be released to customers on December 21.
SAP focused on three key areas for this release: applications management, ease and depth of new device integration, and of course, platform support.
With bring-your-own-device (aka "BYOD") a lasting trend in enterprise hardware, SAP wants to make new devices "enterprise-ready in minutes." With a simple link and self-service portal, new devices can be brought into the Afaria infrastructure through the browser in just a few clicks. No onboarding app is necessary.
Speaking of apps, the distribution of private apps has become more app store-like in this version of Afaria. Companies utilizing Afaria can set up their own branded storefront and feature apps that are tailored to each user's particular business needs. Sales representatives will be shown sales apps, marketers will be shown marketing apps, support team members will be shown support apps, and so forth.
SAP witnessed the value of this type of app presentation first hand.
"SAP actually deployed thousands of iPads for our sales staff. The challenge is if you don't provide an onboarding mechanism that is simple, then even though you say you've got this great mobile sales application, and all of your sales people should be using it, if they have any challenges or if it's not convenient or familiar to them, we found that about 50 percent wouldn't even try to get the app more than once," Bryan Whitmarsh, senior director of the SAP solution management team told BetaNews. "If they can't get it the first time, when you run a compliance report, you'll see that you've got three thousand iPads and only 500 people running the mobile application you need to."
This update also improves Afaria's integration into existing enterprise systems, rather than adding more layers onto them. This includes deeper directory integration in distributed systems, enhanced email access control, and expanded PKI certificate management.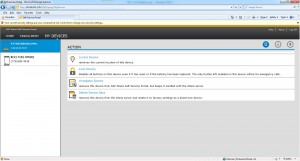 Finally, the ever-important platform support has been expanded, and Windows 8 is supported in this release. Support for Samsung Android devices has been improved with an API that SAP co-developed with Samsung, and support for iOS devices has expanded to improve support for jailbroken devices. Whitmarsh told us Windows Phone 8 support is being worked on, but it won't be included until a service pack release in the "near future."