Amazon finally brings Instant Video to Android, but there is a catch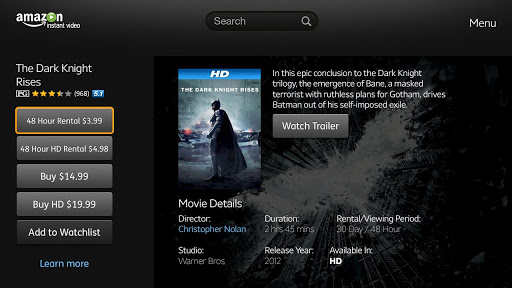 Amazon is Netflix's biggest competitors, but the company had a gaping hole in its armor. While the app works just fine on the Kindle Fire tablets, it was MIA for every other Android user out there. Now the retail giant has finally made the service available to other users on the popular platform, but before you get excited, there is a catch, and it is a big one.
When you find the app in the Google Play store you will immediately notice two things -- one is that it only works with version 3.2 and up of the OS. The other is even more troubling. The app is for Google TV only. Even the new flagship Nexus devices are not capable of using it.
Despite Amazon Instant Video working on the company's own tablets, the retailer has chosen to render its app useless for the majority of users on the most popular mobile platform in the world.
It gets worse -- some Google TV devices running versions 4.1 or 4.2 are also apparently not compatible, according to some reports. In fact, it seems it is not even compatible with all of the devices that Amazon claims it is.
I can cut the service a break for the moment. After all it debuted in the Google Play store today and there is no doubt some kinks to be worked out. However, it is an inauspicious debut from a company we should certainly expect more from. Here is to hoping that Amazon gets this together in 2013 and, if you are using a Google TV then let us know if it does or does not work on your device.
Editor's Note: Joe Wilcox says he has had the app on his Google TV for many months, but it simply launches Amazon Instant Video site in Chrome. He didn't download the thing, it just appeared one day. Today, he tried to download the new app onto the Sony NSZ-GS7/GX70 Google TV from the Play store. It's not there. On further inspection, Google Play lists the Sony devce, a second-generation GTV, as being incompatible. Firmware version is 3.2.