Best Windows 8 apps this week (Doomsday Edition)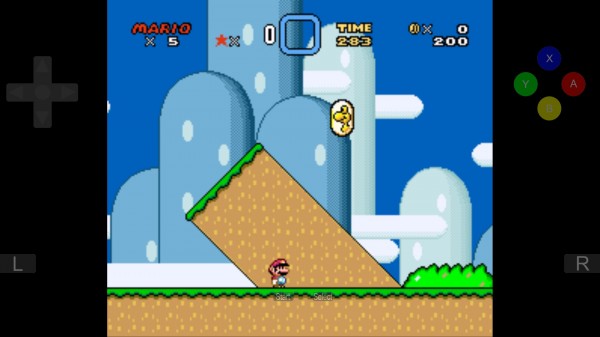 Eighth in a series. Since the world is going down today anyway there is not really much need for today's article and while I thought for a moment about taking the day off, I'd like the idea of leaving the world with work done. So, here it is, the eighth part of the best Windows 8 apps of the week series on Doomsday.
Pssst: If the world doesn't end, and you have Windows 8, now you have something to look forward to.
Fancy a game of Super Mario World, Zelda, The Secret of Mana or any of the other classic games that Nintendo released for its Super Entertainment System (SNES)? The first SNES emulator application for Windows 8 has been released and is available in Windows Store. The emulator comes without ROMs, which you need to get your hands on elsewhere. Besides that, you get a working emulator that you can play nearly every SNES game on.
You control the games by touch if you like, keyboard if you do not have touch available, mouse-clicks, which work but not that well in situations where you need to react fast, or a Xbox 360 game pad that you have connected to the computer.
Game states can be saved at anytime so that you can continue the game where you left off.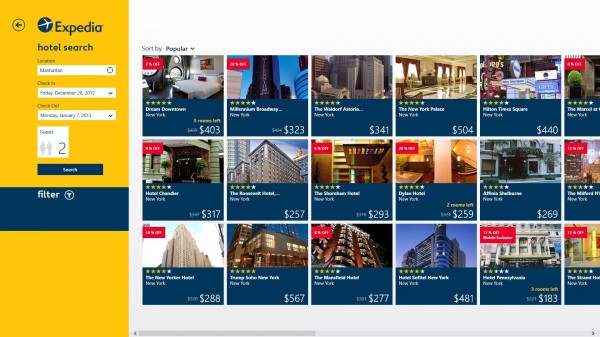 The official Expedia application lets you search for hotels around the world. The application, nowhere near as feature-rich as the Expedia websites, concentrates on hotel bookings. You enter a location, date range and number of people and are presented with a list of hotels available during that time. Each hotel is displayed with a thumbnail shot and pricing information.
A click on a hotel opens the details view where you see where it is located on a map, additional photos, available rooms and pricing, as well as Expedia user reviews.
Hotel rooms can be booked right away in the application. What you can't do however is book a flight as well which feels like an oversight as you can do that on the Expedia website.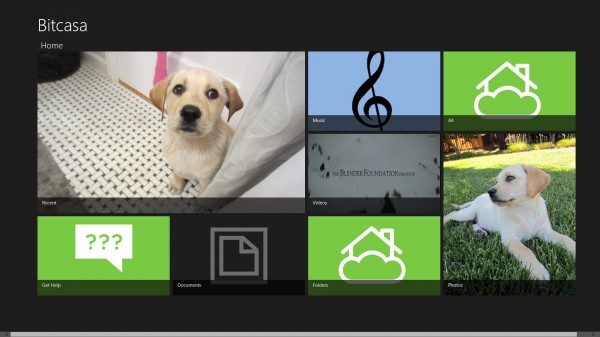 The official Bitcasa application has made its way to Windows 8. Bitcasa is an online storage provider that is currently completely free to use. From early 2013 on, free users of the service will be limited to 10gB of online storage space while paying users will get access to unlimited storage for $10 a month.
The app makes available options to view all of your Bitcasa files that you have stored in the cloud. You have options to upload files to the cloud, download files to the PC, or use the apps' streaming capabilities to stream music or videos from the cloud to the device.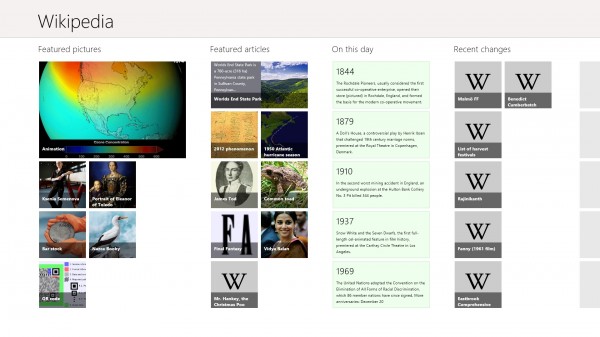 You find many Wikipedia related apps in Windows Store but this one is the official Wikipedia application for the operating system. It displays a selection of features pictures and articles on the start page that open up right in the application.
The Wikipedia app uses Windows 8's search capabilities, which means that you need to open the Charms Bar to search the service. All search results and articles are displayed in the application interface. You do however have an option to read the article on the Wikipedia site. To do so, right-click anywhere on the page and select open in browser.
The right-click menu makes other options available. Here you can use the on-page find to search the article or pin it to the start for direct access.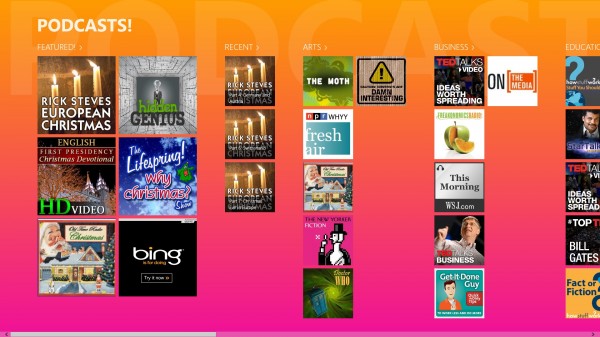 This is a port of the popular Windows Phone application. Podcasts makes available a directory of podcasts that you can listen to right from within the application.
There is unfortunately no option to download podcasts to the local system, which would be great for times where no or only limited Internet connectivity is available.
The selection of shows on the other hand is very good. You can browse popular podcasts right from the start screen or click on a category for a list of all shows listed under that category.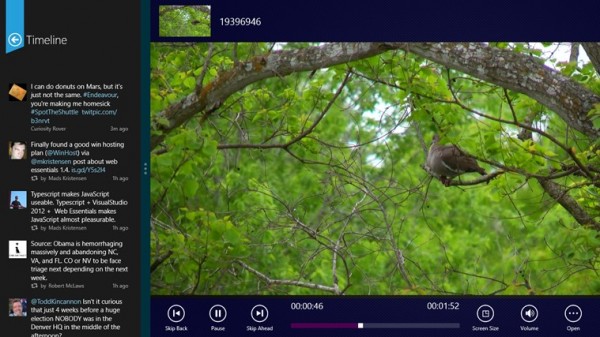 If you are looking for a media player replacement for Windows 8 you may want to take a closer look at the free Metro Media Player, at least until VLC gets officially released for the operating system.
The player supports all media types that Windows 8 supports by default, and while that means support for mp3 or mp4 files, it also means no support for mkv files and a couple of other popular media formats.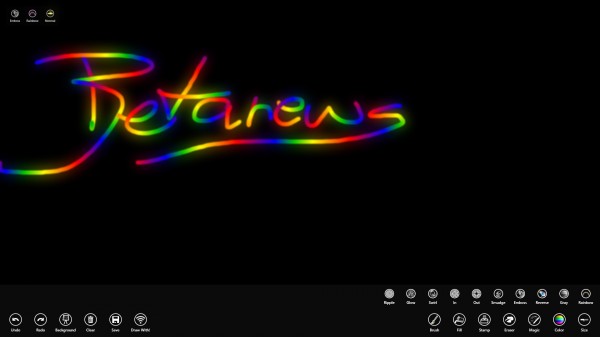 Need something to keep the kids entertained while you are preparing dinner? Draw Free is a drawing application for Windows 8 that works best if Windows 8 is running on a touch-screen device.
It is like finger painting but with many different options to manipulate the images. From adding effects -- sound and visual - to stamps that allow you to add animals or plants, it is all there for exploration. There is also a coloring pages mode that many kids will like.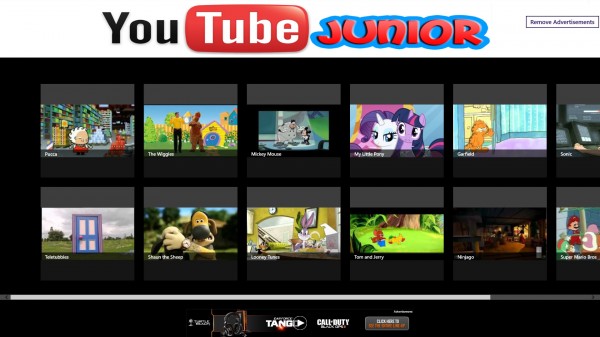 Not an official Google-endorsed YouTube application but nevertheless interesting. It makes available children-friendly shows like Tom and Jerry, Shaun the Sheep, Micky Mouse, My Little Pony or Garfield right from its interface.
All shows play right in the apps' interface and include multiple episodes that you can play one after the other.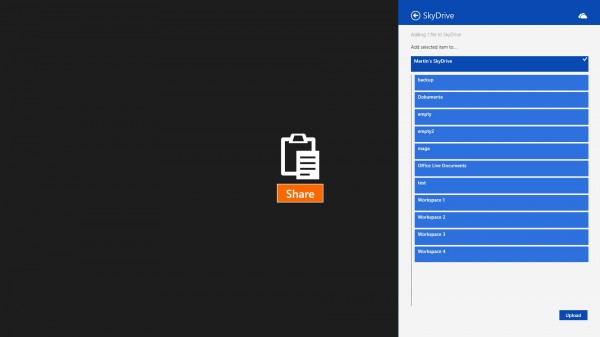 A clipboard manager that bridges the gap between desktop programs and Windows apps. You can use the application to copy data to the Windows clipboard and share that data with Windows apps that are running on the system.
Copy a file in Windows Explorer and use Clipboard to share it with the SkyDrive application to upload it to the file host, or copy a link and share it on Facebook or Reddit using applications that make available that functionality.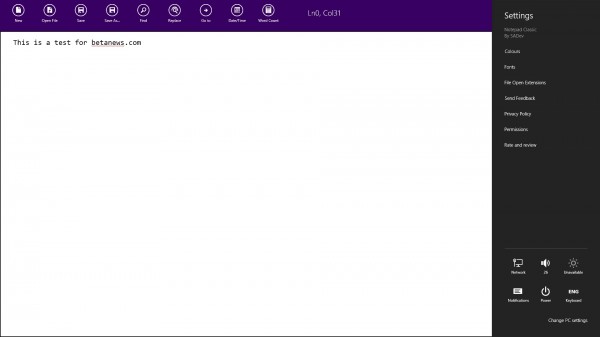 If you want an app-equivalent for Notepad then Classic Notepad is your best option in this regard. It is a basic text editor for Windows 8 that supports the majority of features that Notepad supports plus a couple that it does not. You can load and save text files, change background colors and fonts, use word count and find or replace functionality.
The thing that is missing is an option to save files as different file types than .txt. If you are web developer or administrator, you sometimes need to save text files as .js, .bat or  css files instead of .txt.