Keep your system safe with Malwarebytes Anti-Malware 1.70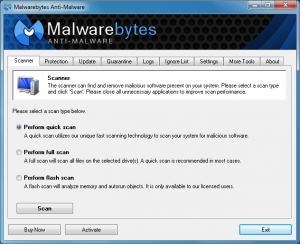 Malwarebytes Corporation has released Malwarebytes Anti-Malware 1.70. And while (as usual with this particular program) the upgrade isn't particularly revolutionary, it does contain some important tweaks and additions.
The new build sees Anti-Malware finally get up-to-date with Windows 8, for instance. Not only does the program now properly identify Windows 8 and Internet Explorer 10 in scan logs, but it can also use the Windows 8 Start Screen to show notifications.
Threat handling changes (in the Pro version) mean that malware detected by the protection module is now automatically quarantined by default. But elsewhere Anti-Malware 1.70 has become more flexible, with its protection prompts now including options to run detected threats temporarily, or add them to the Ignore List so you won't be hassled about them again.
If you're more concerned about any practical day-to-day benefits of the new release, the official change log claims it's now better at detecting new and unknown threats, with a more efficient scanner and enhanced compatibility with other security tools.
The More Tools tab now finally looks like it's going to live up to its name, with links to Chameleon, Anti-Rootkit and StartupLite, as well as FileAssassin. Although don't be surprised if these open the relevant Malwarebytes web page in Internet Explorer, rather than your default browser: apparently that's hard-coded into the build, slightly annoying but a relatively minor issue which should get fixed next time.
And all this is presented via a mildly revamped interface. Don't worry, everything works more or less the same, there's just a new icon and subdued blue-black color scheme to give the program a slightly different look.
It's not the longest of "new feature" lists, then, but Malwarebytes Anti-Malware 1.70 looks like another solid step forward for this excellent tool, and the release is available now.