Canonical announces Ubuntu for smartphones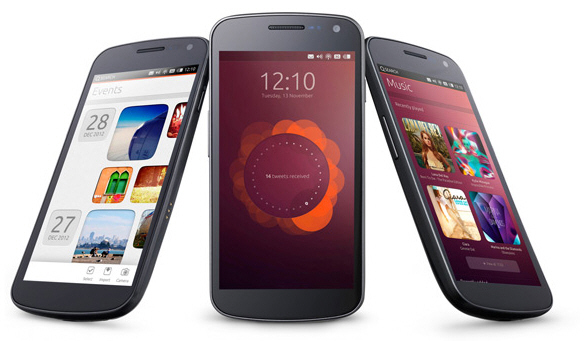 Canonical's popular Linux distro Ubuntu has been adapted to run on smartphones, replacing Android. The new OS has a distilled interface, and uses the screen edges in place of buttons. According to Canonical the controls only appear when required and "thumb gestures from all four edges of the screen enable users to find content and switch between apps faster than other phones".
Swiping from the left will display Ubuntu's launcher, while swiping from the top will show system indicators, such as Networks, Date and Time, Sound, and Battery. Swiping from the right will take you back, and the bottom edge will give you access to options inside an app.
The OS supports native, web and HTML5 apps, giving users access to a pretty sizable collection of content from the word go, and a Ubuntu app store is planned for the future, unsurprisingly.
Canonical sees the mobile OS as appealing to users of both high-end and basic entry-level smartphones. According to CEO Jane Silber, "We expect Ubuntu to be popular in the enterprise market, enabling customers to provision a single secure device for all PC, thin client and phone functions. Ubuntu is already the most widely used Linux enterprise desktop, with customers in a wide range of sectors focused on security, cost and manageability. We also see an opportunity in basic smartphones that are used for the phone, SMS, web and email, where Ubuntu outperforms thanks to its native core apps and stylish presentation".
The OS offers voice and text commands in any application, global search, and the ability to use your phone like a computer when docked with a monitor, keyboard and mouse.
"We are defining a new era of convergence in technology," Mark Shuttleworth, founder of Ubuntu and VP Products at Canonical explained. "With one unified operating system that underpins cloud computing, data centers, PCs and consumer electronics".
Don't get too excited about the idea of buying a Ubuntu phone just yet though, as no carriers have been signed up, and initially at least, interested users will have to install the OS on their own Android devices. But Canonical remains hopeful that operators will be interested in selling devices running Ubuntu, especially as they'll be able to add their own branding and other customizations.
Phones running the software will be showcased at CES in Las Vegas next week.