Goooaalll!! BBC launches new sports app for iOS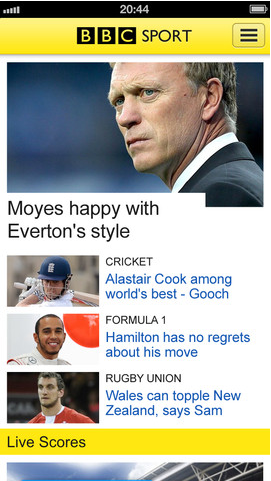 Following on from the success of last year's hugely popular Olympics app, BBC Sport has released a new sports app for iOS, with an Android version to follow in the coming weeks.
The new app displays the headlines from the BBC Sport website, and lets you view the latest scores and results for all of the major sports, including football (soccer), rugby, cricket, tennis, and horse racing. The Quick Links button lets you select any of your favorite sports. Choose football, for example, and you'll be able to view live scores, results, fixtures, and more. The app will also provide live text coverage of England's cricket Test matches, rugby union's Six Nations, and the forthcoming Formula 1 season.
There are no video highlights available at the moment, but this feature is planned for the future.
Lucie McLean, executive product manager for sport at BBC Future Media, said: "The new BBC Sport app builds on the success of London 2012 to give users an even easier way to get the content they love, whether it's checking out how their team got on, following live text updates on the day's sporting action or catching up with the latest news".