What are some of CES 2013's ShowStoppers?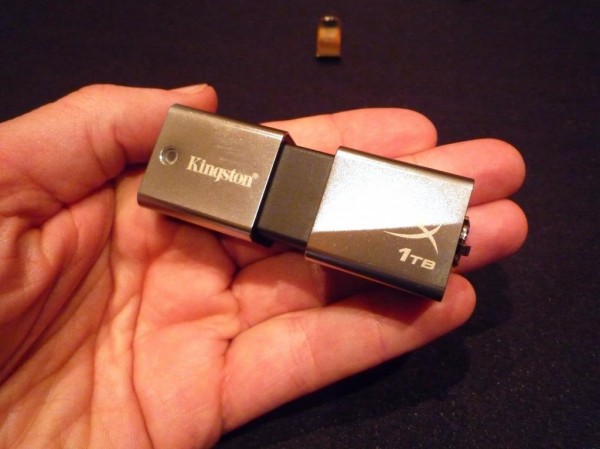 Consumer Electronics Show is a big crazy event. There is a lot of new technology that might or might not see the light of day a couple of years down the road, and a whole lot more stuff that is rather hum-drum. Walking through millions of square feed of convention seeing thousands of cheap speakers and iPhone cases and over sized TVs can be a numbing waste of time.
That is why I like the side event, Showstoppers, which puts together a pretty good lineup of interesting tech products. While nothing jumped out as much this year as last, these are a few that piqued my interest as having some potential, or were simply interesting.
Kingston's HyperX Predator 1 Terrabyte USB Thumb Drive
The company sent us something about this before the show, and it got our interest; 1TB is a big step and a lot of storage. If you aren't a gamer, then the name probably comes across as extremely lame, but Kingston chases the biggest immediate market with this.
The promised r/w speeds are much faster than an internal hdd drive (but slower than an internal SSD -- because of the limitation of a USB 3 port, I'm assuming), letting you run an entire system off of a thumb drive with pretty good speed.
Unfortunately, Kingston only demonstrated a mock-up of the device there, so I couldn't see a demo of live performance. It should be similar to the currently available 500 GB version.
Price? Not announced yet, but the 500 GB version is over $1k, so expect to pay big.
Most people wandering up to their sadly appointed table were a bit like me, asking: What are you doing here? Lots of big enterprise companies are in LV for CES, getting a feel for where personal tech is going and having meetings, but displaying at Showstoppers seems odd. The basic answer is that they are offering Big Data tools to pull together disparate touch points that big companies have with consumers to try to make it actionable in real time. It is a logical extension of their CRM tools, I suppose.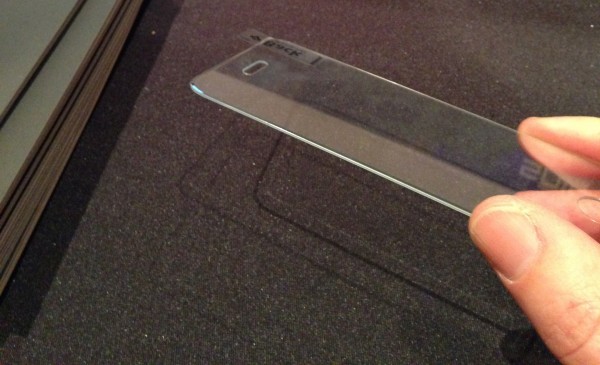 I'm a fan of SPIGEN's minimalist leather iPhone cover; I got a new one at the booth. Still, lots of people use screen protectors, and the new GLASStR is interesting; basically, it is a real glass overlay, instead of plastic film. The new feature is a rounded-off edge, which the firm claims is very hard to do. The rounded edge means that you can stick it on and not have sharp edges exposed to damage; especially good if you aren't going to completely encase your device, but just want the screen guard.
Testing it out at CES, the feel is very similar to the original iPhone and iPad screens, which, to my mind, is a big plus over some of the plastic options.
Monabar
There are plenty of services that allow you to get a cut of the potential affiliate income from your online shopping.  I don't know of any that do it with a browser plugin that activates when you go onto a shopping site that they could get you money back on. It also ties into coupon databases to let you know of potential discount codes.
Brother (yes, sewing machines)
I have no idea if the tech the company show is revolutionary, or even good. I had watched some Project Runway, however, so I recognized that Brother actually has a celebrity at their booth, in Anthony Ryan; and an ugly example of what I suppose you could do with a computerized sewing machine.
You will have to go to their site and get the app (iOS only for now) to check this one out, but it is pretty cool. Basically, the system takes videos shot by ultra widescreen or 360 cameras and makes it so that you can move your viewpoint around in them by moving your device around. The process is quite intuitive and a very cool viewing experience. This could be really great as a second-screen feature when watching sports or live events.
Additional devices should be supported soon, but limited, as the app is extremely dependent on each device's motion-sensing facilities.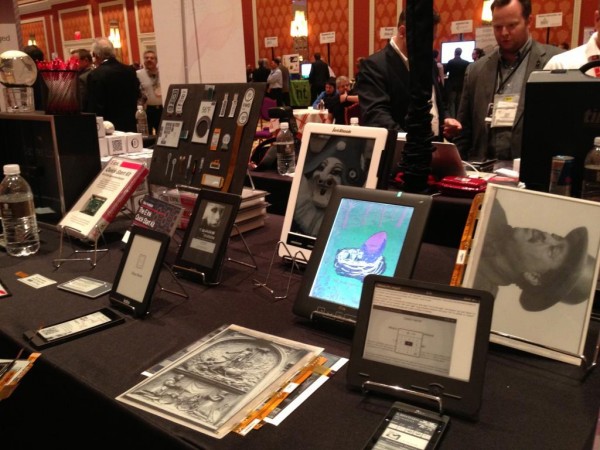 It is always cool to check into where things are with this display technology. This year: flexible screens and color. For the former, the company says that there isn't actually demand for floppy e-readers, but that people are looking to some flexibility to increase durability. I guess that makes sense.
With color, the demo units don't have the best content on them for checking out whether you lose too much of the contrast as a trade off.  It looked okay, but certainly not ready for the mainstream yet. Where the tech does best is in simple drawings, where you donn't need the vivid colors you'd want in a photo.
These Aussies have wireless speakers that they promised are true audiophile quality, or at least that won't sound like wireless speakers. You can sync 3-4 pairs, so they can be your entire sound system and no worries about latency. Because they use a digital signal, the powering, processing and conditioning is done at the speakers so you don't use an amp at all in a wireless set-up with these.
Photo Credits: Scott Alperin