232 years in the making, Ordnance Survey launches its first maps app for iOS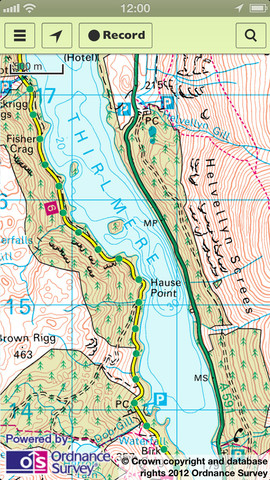 Shortly after Apple launched its disastrous maps app, Google's CEO Larry Page made a comment regarding how it had taken Google seven years of hard work to get to where it's at now. Seven years sounds like a long time, but it pales into insignificance when compared to the 232 years that British mapping agency Ordnance Survey has been making and refining its maps.
It's rather surprising that it's taken this long for the OS to put its work on iOS, but the agency has at last come up with an official app. OS MapFinder isn't a straight alternative to Google Maps or Apple Maps though. Rather, as Ordnance Survey puts it, the app is "aimed at walkers, ramblers, runners, cyclists and generally anyone looking to enjoy the outdoors".
The app lets users view, navigate and download up-to-date OS Landranger (1:50,000) and OS Explorer (1:25,000) maps of Great Britain in high-resolution. There's no danger of getting lost with these, as the highly accurate maps have been produced using a team of 250 surveyors and two aircraft making an incredible 10,000+ changes to the mapping database every day.
Although the app itself is free, Ordnance Survey isn't one to give its maps away for nothing, so users will need to pay to download more detailed data. A single 10km-by-10km tile at 660dpi costs 69p. You do get a free tile of Exeter but it's probably not worth moving there just for that.
The data is cached on the device, so you can use it offline -- handy when taking a stroll in the Scottish Highlands, for example, where it might be tricky to get a 3G signal.
Users can search for locations by place name, postcode or Ordnance Survey Grid reference. You can record your own personal routes on your device (in real-time), plan routes and measure your times for each trip.
Launching the new app, Peter ter Haar, Director of Products said: "Ordnance Survey prides itself on generating accurate and up-to-date mapping data. Customers have been asking us to extend the ways they can access our detailed and trusted mapping to meet the demands of today's digital lifestyle. We are delighted to be launching OS MapFinder to give consumers the most up-to-date mapping from just 69p. Customers will now be able to enjoy the same experience as using a trusted Ordnance Survey paper map when exploring Great Britain on the go, at the touch of a screen".