Google launches Chrome Beta channel for Android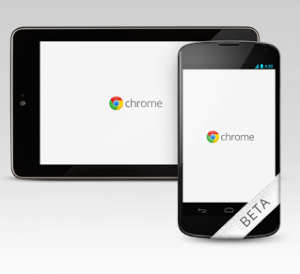 Users of Google's popular desktop browser have a choice of release channels. If you hate bugs and crashes, there's the stable version of the browser (which was just updated). If you don't mind taking a little risk and want to get your hands on the newest features, there are the Beta and Dev channels. And finally, if you want to be on the absolute cutting edge, there's the Canary build which runs alongside any other Chrome installs you have.
Android users don't have this degree of choice, but from today Google is offering a new Beta channel for phones and tablets running Android 4.0 and up, and the good news is it can be installed alongside your current version of Chrome so you'll always have a stable version of the browser on hand.
According to Google, "Chrome for Android now benefits from all the speed, security and other improvements that have been landing on Chrome's other platforms". The first Beta release includes improved Octane performance, and HTML5 features for developers.
You can grab the new version from the Google Play store now. You will need to use the link as the app can't be found by simply searching for it.