Hold your weekend! Dropbox has an update for your Android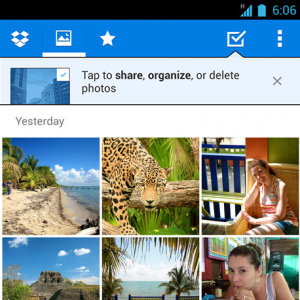 It may be Friday evening and, according to Jimmy Buffett it is always five o'clock somewhere, but Dropbox has not finished its work week, pushing out one final update. So put away the beer or wine and pick up your Android. Late today the company announced an update that "makes it super easy to share collections of photos with friends and family".
Dropbox has been busy lately, given the stiff competition the cloud service is suddenly receiving from all sides -- Box, SkyDrive, Google Drive, Amazon Cloud Drive and others. This update is all about photo sharing. From the Photos section, users can now tap a button and choose the pictures they wish to share with friends and family. You can add them to a shared album or even do it via an emailed link. In fact, you can even utilize Facebook or Twitter for the process.
According to Dropbox's Tony Grue, "Choose your favorite photos and videos from family gatherings, show off the amazing soufflé you created with friends, or highlight your mad snowboarding skills with gorgeous albums that everyone can enjoy from their computers, tablets or phones -- no Dropbox account required!"
The update is now available in the Google Play store, but those who already have Dropbox installed should receive the update automatically. Now, just pay attention to those photos you are sharing -- we don't want to see anything naughty slip out!