Sorry, Apple Store, Google Play device customer service rocks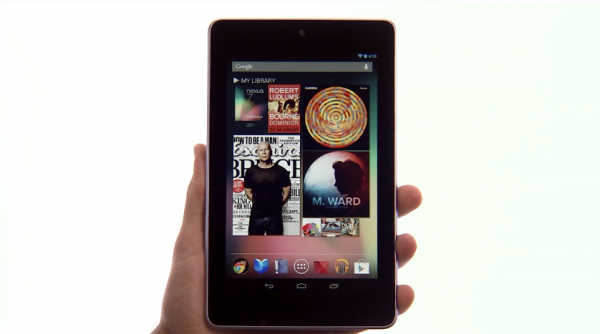 I often hear "Apple Store" stated as reason someone chooses iPad over another tablet. The Genius Bar is there for troubleshooting and even replacing defective products. Where do you take Android? It's a valid question, and I can personally attest to amazing Apple customer service. In 2008 and 2011, I had two different MacBook Airs fail. As in dead. I walked out of the local shop with brand new computer each time. That's hella good, eh?
That said, over the last decade, I've only ever exchanged Apple products -- no failures from any other manufacturer (there was fast battery discharge from a Samsung phone, but we kept it). Well, until last week. My 32GB Google Nexus 7 HSPA+ stopped working. No amount of troubleshooting or fancy pressed-key combinations could rivive it. I prepared for the worst, expecting that Google, operating on the Internet, could never give good retail customer service. Was I ever wrong. Apple couldn't have done better.
Cue the Violins
My story starts December 26, when the new tablet arrived as a late Christmas present and replaced my 8GB model. Google Play ships the HSPA+ tablet with AT&T SIM card, but you could just as easily use T-Mobile, which network is supported. AT&T has a special running -- $100 credit with 2-year contract. Not for me. I took Nexus 7 into the local corporate store and added the SIM to my shared data account, which costs $10 a month without further commitment.
Trouble started rather quickly. I recharged Nexus 7 once, and found the battery drained less than two days later resting idle. That simply isn't normal. I recharged and turned off, expecting not to use it for another two days. Uh-oh, the screen remained darkened when pushing the power button. Drained again! I charged again and turned off the tablet. The screen never again lit.
I searched the Internet for remedies and my colleague and resident Android expert Mihaita Bamburic offered helpful troubleshooting suggestions. By all appearances, the tablet wasn't charging at all when plugged in.
So on January 11, I went to Google Play store online for a contact number and got one: (800-328-6081), promising 24/7 customer service. But when calling I got recording: "You have reached a call source number that is no longer in service". Lovely. Just lovely. My suspicions about crappy customer service confirmed.
That was Fast
About two hours later, I poked around Google Play looking for another contact method, again seeing that number. But, unexpectedly, when refreshing the devices contact page, another appeared: 855-836-3987. It worked. I called and a rep quickly transferred me to someone to process a return. She didn't ask for lots of information, like where to ship, having it attached to my Google Account ID.
Google did everything over the phone and by email -- no trip to Apple Store for appointment. A Genius would have asked lots of questions, mucked around with the device (if iPad) and taken up lots of my time. The Google exchange was stress-free, by comparison. The RMA rep sent an email with link to Google Play. I ordered the replacement device myself, which surprisingly was quite empowering -- satisfying.
The new tablet arrived on January 14 and so far works great. Emphasis: New. My two MacBook Air replacements were exceptions. Apple, like many other companies, often replaces with reconditioned devices. The Google Play rep promised new and delivered just that. But there was further context for my asking about new.
I was very unhappy about returning the busted Nexus 7. I hadn't yet bothered to put on any security -- either encryption or pin code. So in the case someone could restart the tablet, everything would be accessible in the clear, simply swiping. But she assured me that after devices are examined they are destroyed. Google doesn't sell refurbs. I didn't believe her but reconsidered after getting the new tablet.
The old tablet went into the same box and out via UPS (Google Play paid), also on the 14th. Yesterday, I changed my Google password on all my devices, which was a bit annoying because of two-step verification.
So....if your reason for choosing iPad or mini over Nexus 7 or 10 is customer service, reconsider. Google Play can do you right. There's someone ready to help 24/7 -- well, if you have the right phone number.