Make your own Nokia Lumia 820 back cover using 3D printing, but don't look at the price-tag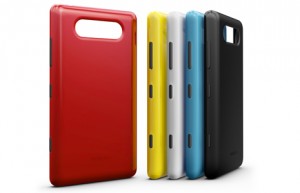 Whenever new and exciting products are launched, shortly after the big bang a plethora of accessories surface to match even the most peculiar of requirements. Some are a hit while others are a dreadful miss. But what if nothing on the market tickles your fancy? Well if you happen to have a Nokia Lumia 820 lying around you can create something yourself.
Nokia has released a 3D printing development kit comprised of 3D templates, case specs, recommended materials and a best practices guide to manufacturing customized back cases for the Lumia 820, using (the name of the development kit pretty much gives it away) 3D printers. Pricey is an understatement, but that said the Finnish manufacturer does at least offer a solution for those seeking the ultimate in smartphone customization.
While Nokia's intentions are commendable, even the company's community and developer marketing manager, John Kneeland, concedes that 3D printing is far from a wallet-friendly and fully developed technology. By comparing it to early steam engines, Kneeland says: "[they] were incredibly expensive, finicky, and quite limited in what they could actually do", then further goes to state that, "we can print cases made of only 1 or 2 materials, and the machines are limited in what they can make, but that itself is incredibly exciting".
At the moment, the 3D printing development kit is mostly aimed at accessory manufacturers rather than the average Lumia 820 owner, but if played right it could potentially transform the respective market. It's not far fetched to think that one day fully customizable back covers (and even more parts) will be available to order at a decent price comparable to pre-built ones.
It's worth noting that Nokia will be much better served by accessory manufacturers if the company decides to steer clear of unibody designs. While it has its perks, logic dictates that a unibody shell is much harder to manufacture and much more difficult to exchange as well with a new one. Popping a back cover is child's play by comparison, and a more suitable and user-friendly solution.