Create disk, partition and system backups with AOMEI Data Backuper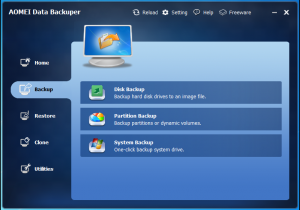 Bitter experience has taught us to be highly skeptical of free backup tools, particularly when they come from commercial companies: they'll usually include one or more annoying restrictions in an effort to get you to upgrade to something else.
Would our concerns really apply to AOMEI Data Backuper, though? We installed the program to take a closer look.
Data Backuper has a clear and simple interface which will feel immediately familiar to anyone who's ever used an image backup tool before. Its functions are sensibly organized across a number of tabs ("Backup", "Restore", "Clone", "Utilities"), and the program works very much as you expect.
Click "Disk Backup", for instance, and you can choose a source and destination drive. A "Backup Options" link allows you to apply various common tweaks (set compression level, encryption, decide whether you want to use VSS, and so on), and then clicking "Start Backup" initiates the backup for you.
There are also the extra tools you'd expect. The program includes an option to mount an image as a virtual drive, for instance, so you browse it from Explorer. You can then restore an image directly from the program, or create a bootable rescue disc which will allow you to restore your system drive.
And you even get one or two useful extras, with the Clone tab hiding options to clone individual partitions or copy the contents of one drive to another.
The program does have one or two notable weaknesses. You can't create and save backup jobs to carry out particular tasks, in particular. And, significantly, you can't attach a schedule to a particular backup to run it unattended: you must initiate every run manually.
Perhaps more worryingly, we found it failed to back up a USB key, during testing, issuing a cryptic "4140" error and complaining that "the backup driver works improperly". We've no idea why.
Still, the program managed to create and restore images of our test hard drives without any trouble at all, and in general it proved a likeable and effective tool. If you can live without a scheduler then AOMEI Data Backuper could be very helpful.