Google invites you to explore the Grand Canyon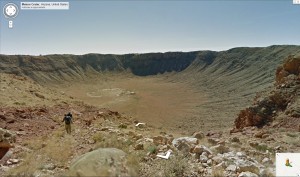 Google Maps and Street View provide detailed coverage of much of the world, and today the search giant is adding the Grand Canyon to its list of fully explorable locations.
Captured as part of Google's Trekker project, the 9,500 interactive -- and at times frankly breathtaking -- panoramic images cover more than 75 miles of trails and surrounding roads. If you've always fancied hiking along the canyon but have never had the time, money or stamina, you can now do it from the comfort of your own home.
This latest project, which required the Google Maps team to lug 40lb 15-lens camera backpacks along the length of the canyon, will let you "hike down the famous Bright Angel Trail, gaze out at the mighty Colorado River, and explore scenic overlooks in full 360-degrees". Other locations Google recommends you view include the South Kaibab Trail and the spectacular Meteor Crater.
It's all very impressive, and just another example of how far Google is prepared to go to make sure it stays far ahead of its would-be mapping rivals.