iPhone wins the U.S. (kind of), but Android rules the world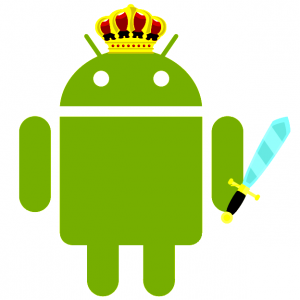 Americans love their iPhones, finally enough to topple Samsung's long-time leadership. During fourth quarter, Apple nudged ahead of the South Korean electronics giant, with 34 percent share, based on shipments, according to Strategy Analytics. To be clear, the numbers are for all mobiles, not just smartphones. The distinction is important for several reasons. The American company only ships smartphones, for which demand rages. Related: Overall phone shipments fell for the year.
"Apple has become the number one mobile phone vendor by volume in the United States for the first time ever", Neil Mawston, Strategy Analytics research director, says. "Samsung had been the number one mobile phone vendor in the U.S. since 2008, and it will surely be keen to recapture that title in 2013 by launching improved new models such as the rumored Galaxy S4".
Apple shipped 17.1 million handsets during Q4, compared to Samsung's 16.8 million, for 32.3 percent share. A year earlier: 25.4 percent and 26.9 percent, respectively. However, Samsung easily leads for the year, with 31.8 percent share to its rival's 26.2 percent. But the share lead considerably shrank compared to 2011 -- 28 percent and 15.9 percent, respectively. Unquestionably, iPhone's gains are remarkable, and in a rapidly saturating market.
The United States is the most mature smartphone market, which is where Apple only competes, while Samsung still sells feature handsets. The fruit logo company's changing position is more than increased demand for iPhone then. For all 2012, Samsung phone shipments changed little year over year -- 53 million units from 52.3 million -- while Apple rose to 43.7 million from 29.7 million.
Mobile phone shipments grew a scant 4 percent during the quarter but fell 11 percent for the whole year. "Growth was driven by robust demand among consumers for 4G smartphones and 3G feature phones", Mawston says.
Globally, Samsung's lead over Apple is enormous and widening, ranking first and third, respectively, with 24 percent and 10.6 percent share for the quarter and 25.2 percent and 8.6 percent for the year, according to Strategy Analytics. During 2012, the American company's share rose 2.6 points compared to its rival's four. Stated differently: Samsung accounted for "one in four of all mobile phones shipped worldwide last year", Mawston says.
Comparing global to U.S. shipments reveals just how dependent Apple is on the one country. During Q4, the United States accounted for 36 percent of Apple handset shipments, but only 16 percent for Samsung. For the year, 13 percent to Apple's 32 percent.
The point: Samsung's global reach far exceed's Apple, and there is huge disparity regarding the most-mature handset market, particularly smartphones, where sales are slowing.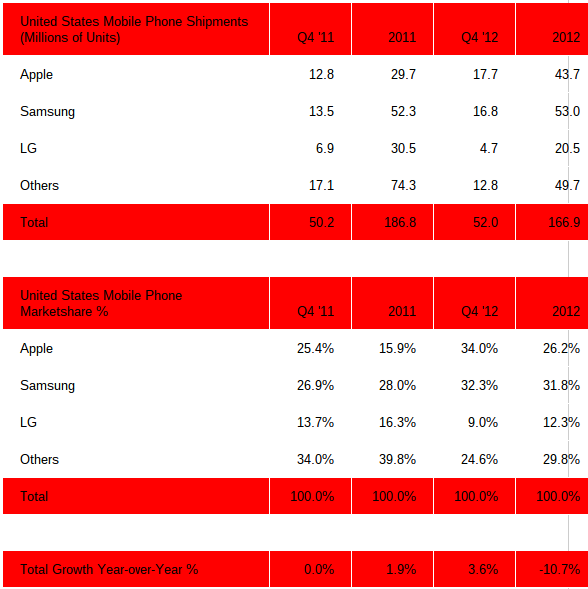 Then there are smartphones, which account for the majority of handset growth in most markets. While Americans favored iOS over Android during fourth quarter, Google's green robot captured the world. Year over year, Android surged to 70.1 percent smartphone share from 51.3 percent, according to Strategy Analytics. iOS share actually retracted, to 22 percent share from 23.6 percent. For all 2012, Android climbed to 68.4 percent from 48.7 percent, while Apple nudged up to 19.4 percent from 19 percent.
In the world's largest smartphone market, China, Android market share reached 86 percent during Q4, compared to 12 percent for iOS, according to Strategy Analytics.
The point: The Apple Fan Club of analysts, bloggers, reporters and other writers claim bragging rights today (just look at all the "iPhone is No. 1" stories). But in larger context, during iPhone 5's global launch quarter, Android still rules the world and the U.S. for all 2012.