Create animated GIFs from YouTube videos with Any GIF Animator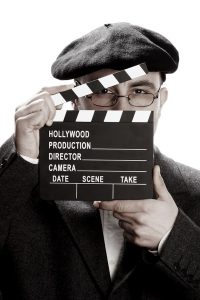 From a Captain Picard facepalm to a dancing Homer Simpson, there's an animated GIF for every occasion. Which is one reason why they're still regularly used in emails, forum posts, on web pages and so on. (Although another is probably compatibility: unlike more modern technologies, such as HTML5 or CSS3, animated GIFs work just about everywhere.)
If you're tired of reposting one of the standard animations, though, why not create a new GIF of your own? It's surprisingly easy. Any GIF Animator imports just about any video or YouTube clip, and once you've zoomed in on the section you'd like to use, can have a quality animated GIF ready and online in just a few seconds.
After a quick installation (no adware, but the program does ask to install Media Player Codec Pack Lite) you're able to import your first video. The program can open a wide range of formats (3GP, ASF, AVI, DAT, FLV, MKV, MOV, MP4, MPEG, RAM/RM/ RMVB, TS, VOB, WEBM, WMV), and it'll also download YouTube clips if you just provide the appropriate URL.
An embedded media player then allows you to browse through your video clip, find and mark the section you'd like to convert. Oddly, you can't step through the movie in frames -- the smallest increment is a tenth of a second -- so you're not able to be as precise as we'd like. But otherwise this is a fairly simple operation, and you'll quickly have your core clip ready.
If you'd like fine control over your animation then the good news is that Any GIF Animator provides lots of configuration options. So you can set the GIF's size and frame rate; crop the image; tweak saturation, brightness and contrast; add a text caption, choose the best dithering method, set the animation type (looping, direction) and more.
But if you're not sure whether you need any of this, or are just in a hurry, then you can just accept the default settings -- they work well, most of the time.
And when you're happy with the clip, all you have to do is click "Convert to GIF" and Any GIF Animator will process your chosen video, create an animated GIF version, and upload it to the AnyGif server, where you'll be given the URLs you need to share the clip with others.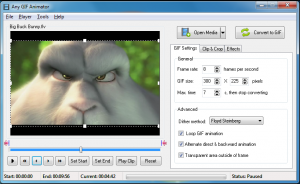 One very obvious issue here is that the program doesn't offer you a choice about uploading animations -- it just does it. And your GIF will then immediately be visible to anyone who visits the site, so bear that in mind before you create anything of a, well, personal nature. (We'd also urge caution if you're looking for something family-friendly; the program itself is fine, but view what others are creating on the website and you'll find plenty of porn.)
Perhaps most annoyingly, Any GIF Animator doesn't even provide an option to save a local copy of your animation. If you want to do this then you'll need to either allow it to be uploaded, then save it from your browser, or make a copy of the temporary file the program creates -- see C:\Users\[UserName]\AppData\Roaming\Any GIF Animator, for instance, or search your system for out.gif.
There's a lot to like about Any GIF Animator, then, and you can use it right now to produce quality animations. The program also has some significant annoyances, though, and it really needs a local save option to be added very soon.
Photo Credit: Alex Kosev/Shutterstock