Android 4.2.2 rolling out for Nexus devices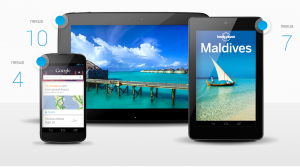 Google Nexus owners, unlock your devices and start checking for updates because Android 4.2.2 Jelly Bean is now rolling out. The latest software version is reportedly hitting Galaxy Nexus, Nexus 7 and Nexus 10 devices, with no word at the moment relating to the Nexus 4.
The Android 4.2.2 update bumps up the build number to version JDQ39 and mostly appears to contain minor fixes. No official changelog has been provided by Google at this moment, but users are reporting improvements for Bluetooth streaming which now presents "less hicups [...] but still not perfect" with apparent disconnects when switching from Wi-Fi to cellular data.
The update comes in at little over 46MB and considering the fairly significant size may feature plenty more under-the-hood changes. Android 4.2.2 is currently rolling out in waves and will likely hit the Nexus 4 in the following days if previous deployments are of any indication. For Galaxy Nexus owners there is an OTA Android 4.2.2 update file that can be manually downloaded and installed afterwards using ADB Sideload in the recovery.