Yes! Google should open retail stores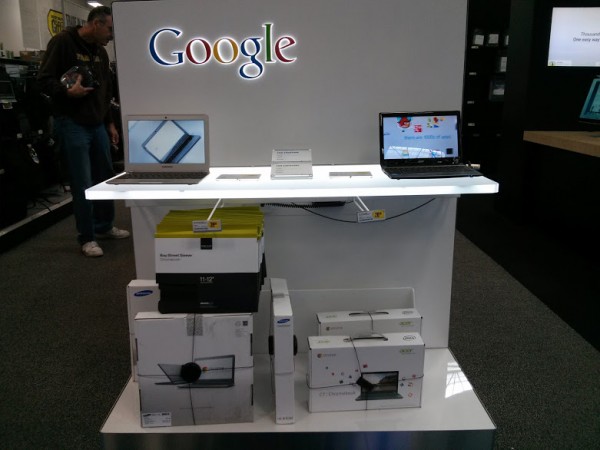 I can't say if rumors flashing across the InterWebs yesterday are true about Google opening retail shops this year. Not that it matters. The search giant should open stores -- and lots of them. Timing is right, too, and who could have imagined two or even three years ago.
Make. No. Mistake. In the 22 months since returning as CEO (following a 10-year hiatus), Larry Page has injected new vim, vigor and vibrancy into the Google empire. The company is now one of the most disruptive forces across techdom. Android Market branding to Google Play, Google+, Google Now, Nexus tablets, low-cost Chromebooks and stores selling them inside major retailers all debuted during his watch. Then there is ever-tightening cross-integration of products and services creating one of the most formidable cloud applications stacks available anywhere. Google Now, Google Play and Android and Chrome OS devices are reasons enough for retail stores, because the company has a digital lifestyle to sell.
Boutiques, Baby
In June 2010, I explained why "Microsoft and Apple stores are the future of technology retailing", the day after the software giant opened its fourth branded shop four doors and a walkway down from the fruit-logo. Sony also operates a store in the mall, Fashion Valley, although closed last month for renovations. I predicted in 2010, and there is increasing evidence now, that tech boutiques and not big box stores would be the future of tech retail.
The three company stores share similarities relevant to providing products, services and customer service:
In-store training for using hardware, software and services.
Self-branded consumer electronics and supporting third-party add-ons.
In-store tech support: Apple Genius Bar, Microsoft Answers and Sony Backstage.
Similar product activities: Computing, gaming, home entertainment, mobility, photography and videography, among others.
Halo How
Most importantly, each shop promotes a vertically-integrated digital lifestyle around the brands, products and services. During January earnings conference call, Apple CEO Tim Cook discussed the sales pull one product can have on others:
If somebody will buys an iPad mini or an iPad and it's their first Apple product, we had great experience through the years of knowing that when somebody buys their first Apple product that a percentage of these people windup buying another type of Apple product. And so if you remember what we had termed the halo effect for some time with the iPod, with the Mac, we are very confident that, that will happen and we are seeing some evidence of that on the iPad as well.
The point is digital lifestyle and selling it, and consumers spread the halo effect. Apple and analysts agree that consumers bringing their own devices to work is major driver of enterprise iPhone and iPad adoption. Where are they most likely to truly discover these products, and supporting software and services? Apple Store. Google wants into the enterprise, too, and with greater ambitions, such as Google Apps.
Something else: Retail stores reach small businesses. Directly. Like consumers. Imagine the value digital lifestyle story to the small business owner, who walks out of Google Store with Chromebook, Nexus 4 smartphone, Nexus 10 tablet for less than the cost of MacBook Air -- all tidily synced with contacts, calendars, docs, email and more.
Curbing Conflict
Neither these buyers or general consumers will see the benefits at shops selling many competing horizontally-oriented products.
One reason is conflicting objectives. Big box retailers maximize profits by selling anything consumers want to buy. Then their brand priorities. Microsoft Surface or Sony Bravia don't define Best Buy's brand. But these products do define the manufacturers' brands and how people use them.
From that perspective, the company stores are as much about brand marketing as they are places to sell stuff. Apple, Microsoft and Sony all clearly focus on building brand -- through in-store marketing initiatives -- and making sure customers feel good about the companies, their products and sub-brands. Hence, while profitability is important, the customer relationship takes precedence over the transaction.
Right Risks
But benefits don't stop there. In May 2011, I explained why "Apple would be nothing without its retail stores". I was there when the company opened the first shop, at Tysons Corner, in May 2001.
The move into retail came seemingly at the worst time. There was a recession underway, Apple had reported several consecutive quarterly losses and Gateway was in process of shuttering all its company-owned shops. Apple Store was madness. But CEO Steve Jobs saw something else: Using the shops to build brand awareness and sell a digital lifestyle around Apple products.
A dozen years later, Apple operates more than 400 stores, about 150 outside the United States. During calendar fourth quarter, with average 396 stores open, sales per shop reached $16.3 million. Total visitors: 121 million.
The shops allow Apple to take product risks competitors can't. For example, if the iPhone battery dies or the handset has any other problems, buyers can feel confident to pop over to an Apple Store and get it replaced. Apple can risk such unorthodox design (at time iPhone launched) because of the stores. What would that same customer do if his or her Samsung phone with fixed battery had problems? Mail it to South Korea? Meanwhile, customer feedback influences future designs, while Genius Bar visits help Apple detect design problems.
I don't believe that Microsoft would have so easily risked releasing a branded tablet if not for its stores -- and there are many more in just a few months. Microsoft operated 27 shops before Surface RT and Windows 8 launched on October 26, when 32 "pop-up" holiday shops opened. Today, according to Microsoft's retail store locator, most of the pop-ups remain, with some going permanent (moving from mall floor to dedicated store). By my count, Microsoft now operates 64 locations in Canada and the United States. Five new shops will open in the coming months and four more pop-ups converted to permanent stores.
Go Google
Google retail expansion makes sense to me. Surely company math-whizzes see the benefits from the Chromebook kiosks inside Best Buys. Google hired employees, who could speak about broader digital-lifestyle benefits, to staff the kiosks.
Then there are Nexus devices or Chromebooks from four OEMs: Acer, HP, Lenovo and Samsung. Lenovo's ThinkPad Chromebook is only sold to educators, who could try and buy from Google Store.
More importantly, Google isn't just selling a digital lifestyle but one that needs some explaining about cloud benefits.
Yes, the company should open retail stores. I'd love to see Apple, Google, Microsoft and Sony stores at the same mall here in San Diego.
Photo Credit: Joe Wilcox