Burger King sold to McDonald's -- according to the company's hacked Twitter feed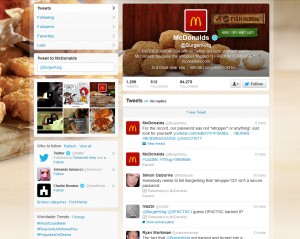 Burger King's Twitter account was just hacked and has been turned into an amusing (and rather crude) advert for fast food rival McDonald's, complete with the Chicken McNuggets header and golden arches logo as the avatar.
No one is entirely sure who is behind the action at the moment, although there's a shout out to DFNCTSC, the Defonic Team Screen Name Club, a loosely organized collective responsible for hacking Paris Hilton's mobile phone and posting her address book a while back.
The first tweet from the feed's new masters states: "We just got sold to McDonalds! Look for McDonalds in a hood near you @DFNCTSC".
There are some amusing posts and retweets in the feed, including an observation from Simon Osborne that "Somebody needs to tell Burgerking that 'whopper123' isn't a secure password".
Some 82,000+ people were following the Burger King account prior to the hack, but that's since shot up by another 9,000 as people clamor to watch the fun. As OAFEnet observes, "They may be hacked, but when was the last time ANYBODY talked about @BurgerKing this much?"
Even Anonymous has joined in, tweeting: "We're guessing the @BurgerKing social media team is having a bad day..."
Update: And that's it folks. The account has just been suspended by Twitter.