avast! Browser Cleanup disables unwanted browser addons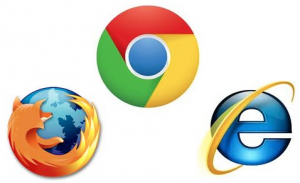 If your browser has been taken over by an aggressive addon then you can try the standard routes to remove it (the "Manage Addons" dialog in IE, for instance). These can be confusing for beginners, though, and may not always work, so avast! has developed a custom Browser Cleanup tool as a simpler alternative.
The program is portable, a compact 1.75 MB download which runs on Windows XP, 7 and 8, so it's generally convenient to use. It supports IE, Firefox and Chrome, and on launch checks each of these to evaluate your browser addons.
If any of your extensions are particularly dubious then they'll be highlighted on a Summary screen which is displayed first. On a test PC, for instance, one addon was reported as either "having a poor reputation" with avast! users, or engaging "in aggressive tactics to manipulate your settings". If you also have something listed on this page then clicking its "More details" link explains why.
If the extensions on the Summary page are unnecessary, then you can remove them all with a click. But if you don't agree with avast! Browser Cleanup's report then you also have the option to remove highlighted addons individually, or maybe do nothing about them at all.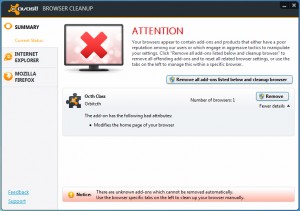 It's quite possible you might have nothing listed on the Summary page, of course, and in that case you can just click one of the left-hand tabs to view the addons for a particular browser. As we've mentioned, this can be done from within the browser anyway, but the Cleanup tool does have a small advantage: by default it excludes add-ons with a "good" rating, so cutting the list down to size and helping you focus on any potential threats.
Spot a potential problem here and clicking Disable will disable that addon completely. There's no "Remove" option, unfortunately, but presumably avast! think it's safer to do this from your browser (and if the addon is disabled then maybe the browser's own uninstall tool will be more reliable).
And if your browser's home and search pages have been hijacked then there's a "Reset browser settings" button to restore their default values.
Avast! Browser Cleanup isn't exactly the most powerful of aware removers, then. But PC novices will appreciate its ease of use, and the program's "user rating" for extensions could be a helpful way to highlight any addons you need to check. If your regular extension management tools don't work then this may be worth a try.