New multiplayer game for Chrome uses smartphones as controllers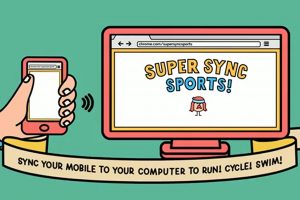 Google has created a new sports game for Chrome, which lets you challenge up to four friends at running, swimming and cycling.
What makes Chrome Super Sync Sports so special is while the game is displayed on your computer screen, the characters are controlled using smartphones or tablets.

To play it you need to have Chrome installed on your computer, and on any Android or iOS devices you want to use as controllers.
To play the game, which makes use of modern web technologies, including HTML5 features such as WebSockets, you just need to visit chrome.com/supersyncsports, pick an event and decide how many people will be playing it -- there's a solo mode on offer. Next visit g.co/super in Chrome on your smartphone or tablet, and enter the unique code generated specifically for your game, and you're all set.
Players can choose from a selection of 50 athletes, and control their character in the game using various gestures. It's great fun and works very well.