UltraDefrag promises faster performance, FAT optimisation support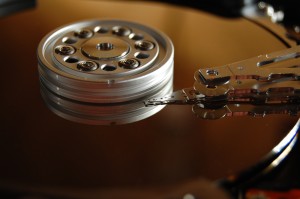 Open-source Windows defrag tool UltraDefrag 6.0 FINAL has been released along with a 64-bit build and portable editions. The new build promises optimized disk processing algorithms for speed and efficiency, support for optimizing FAT disks and the ability to minimize the main window to the Taskbar Notification area.
Ultra Defrag comes with a graphical interface for less experienced users as well as options for defragging individual files, folders and drives from the Explorer context menu, but power users can also control it via a console, with options for batch processing and setting up scheduled tasks available. It also comes with boot-time options for defragging system files and Registry hives.
The key improvement in UltraDefrag 6.0 is the reimplementation of all the disk processing algorithms. This optimization improves the program's overall speed through more efficient and therefore shorter processing times.
Version 6 also allows users to optimize FAT disks for the first time, plus users can now sort files on the disk by optimization as well as path, size and one of creation, modification or last accessed times. The program's optimization tools now also make full use of all specified filters.
The GUI has been tweaked with redesigned icons aimed at making the program look better on Windows Vista and above. Users also gain a few additional options, including one to minimize the program to its Taskbar Notification area icon, and another that allows them to suspend and resume running jobs.
Windows 7 and 8 users can also view a progress of any currently running jobs through the program's Taskbar Notification area icon with this latest release. Like many other settings, this can be switched off by clicking the program's Options button, which opens its configuration file in Notepad for editing manually.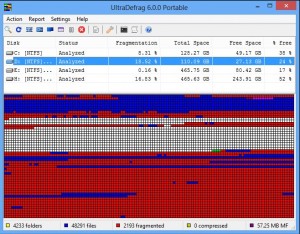 All file fragmentation reports are no longer stored on the root directory of each analyzed drive; instead they can be found in the Reports sub-folder inside the program's own folder.
The new release, which went through two beta and three Release Candidate versions, is rounded off with one new language (Bengali) added alongside numerous language updates (including Chinese, Dutch, Italian, Russian and Spanish), plus the usual gamut of bug fixes and behind-the-scenes tweaks.
UltraDefrag 6.0 FINAL and UltraDefrag 6.0 FINAL 64-bit, along with UltraDefrag Portable 6.0 32-bit and UltraDefrag Portable 6.0 64-bit, are all available as open-source downloads for PCs running Windows NT 4.0 or later.
Photo Credit: Balandina G/Shutterstock