Google Play gift cards now available in UK supermarkets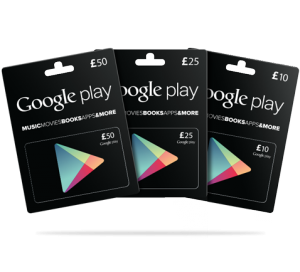 Apple has offered its iTunes gift cards through various UK high street retailers and supermarkets  for years now. It's taken a long while, but Google is finally following suit.
Google Play gift cards, in £10, £25 and £50 denominations will be available from today in Tesco and Morrisons stores. The roll out is happening slowly so they might take a few weeks to reach every location.
The gift cards can be used to purchase apps, music, books, and movies -- but not app subscriptions, magazine subscriptions, or hardware or accessories -- and they can be redeemed on the Google Play site, or directly on your Android device.
Google Play gift cards originally launched in the US last summer where they are available to purchase through the likes of Target, Walmart, Staples, and RadioShack.