ASUS 'launches' the Transformer AiO for Android and Windows 8 lovers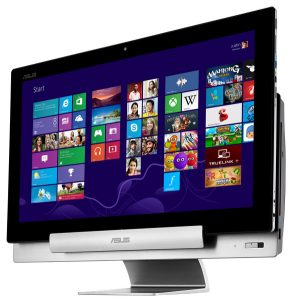 If you're in the market for an all-in-one PC running Windows 8 but you also want an Android tablet to carry about inside the house, Taiwanese manufacturer ASUS has just the thing for you -- the new Transformer AiO. Designed as a niche of a niche product, the Transformer AiO appears to have it all figured out.
The all-in-one aims to give users the power of legacy and Modern UI Windows 8 apps, combined with the vast and mobile-oriented Android ecosystem. On the Windows 8 side, the Transformer AiO brings an 18.4-inch LED-backlit IPS display with 10-point multitouch and a resolution of 1920 by 1080. Power comes from a third generation Intel Core i3, i5 or i7 processor backed by an Nvidia GeForce GT 730M graphics card with 2GB of RAM. Like you'd expect it features the usual array of ports, including HDMI and USB 3.0 ones.
Other specs include 4GB up to 8GB of RAM; 1TB up to 2TB HDD; DVD-RW; Wi-Fi 802.11 a/b/g/n; Bluetooth 4.0; 1MP front-facing camera and two 3W speakers.
But how does it provide the two software platforms? Well, the display is the key.
The 18.4-inch display is actually a detachable tablet -- you didn't expect this, did you? -- which features a quad-core Nvidia Tegra 3 processor and Android 4.1 Jelly Bean as the operating system of choice. Other features include 32GB of internal storage; 2GB of RAM and a G-sensor, among others.
ASUS says that the Transformer AiO can switch between Windows 8 and Android simply by pressing a button. The tablet can also be used as a "wireless Remote Desktop technology" when detached, because it comes with Wi-Fi  802.11 a/b/g/n connectivity and Bluetooth 3.0 with EDR (Enhanced Data Rate).
The device does not break any battery life records with ASUS giving an estimate of five hours of detached operation for the 38W battery, a performance similar to the Microsoft Surface Pro tablet PC.
And, to help lug the tablet-side around and make it usable as a tablet, ASUS has also added a carrying handle and a folding stand because it weighs 2.4KG and it measures 466 x 294 x 18 mm.
The Taiwanese manufacturer has yet to announce official pricing or date of availability.