Microsoft brings Facebook to Bing Desktop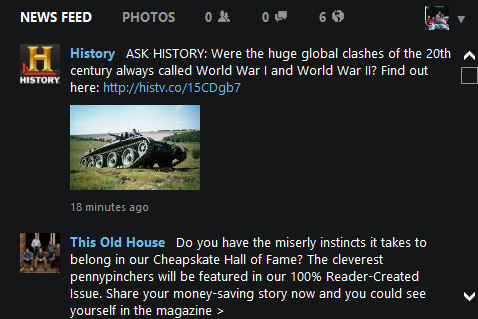 Microsoft rolled out its Windows 8 version of Bing Desktop in late 2012 and brought with it the cool wallpapers that are a part of the search engine's home page. Now, the company has quietly updated the app with another major feature -- Facebook integration. Without any announcement, version 1.2.113.0 launched, but has yet to find its way to all users.
The app is not all about the wallpaper, though that was my main reason for installing it upon original release. Bing Desktop also lets you conduct searches right from the desktop without opening any browser, as well allowing access to the top news stories, images, video and other popular content.
The new version adds Facebook integration via a new icon in the top of the window. Once clicked, you will need to log into your account, then allow the app to access your account information.
When everything is set then you can use the Facebook button in the Bing app to view your news feed as well as get messages and updates.
The update has not gone live to all users -- I did not have it when I began this story, however, heading over to the Microsoft Download Center and installing the latest version will provide access. Otherwise, the update should slowly reach all users. A word of caution during installation -- the app wants to make Internet Explorer your default web browser, Bing your search engine and MSN your home page. These options can all be unchecked.
Honestly, I can't see myself using this feature very often -- I originally installed the app to get the great daily images that Microsoft's search page uses as its daily backgrounds. However, more functionality certainly does not hurt as long as it doesn't bog down the system.