OMG! Unicorn Apocalypse is a real game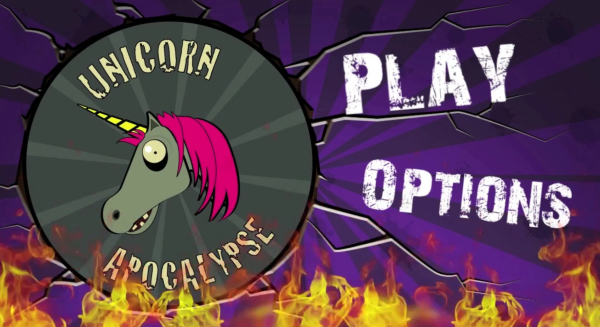 Samsung owned the Oscars, by running a series of long commercials about a software company using Galaxy S3s and Note IIs to create game Unicorn Apocalypse. The TV spots were compelling marketing. You simply must watch the 90-second spot featuring filmmaker Tim Burton looking to make zombie unicorn movie "Horn of Darkness".
Unicorn Apocalypse went live on Google Play today (South Korean time). The "game is the winner of Samsung's contest to create the game discussed in the Samsung TV commercials", the company explains. "As the world crumbles and burns, a lone unicorn wreaks havoc on the last of humanity". Reviewers wreak havoc on the game, with 80 one stars out of 142, as I post. Hey, but they are polarized. Another 37 give Unicorn Apocalypse five stars.
Cody Mills is in the one-star club: "After about a minute of gameplay, you fall off the edge and there's just fire. You still collect points, but the unicorn isn't on the screen". Nick Cruz: "Awesome. From commercial to Game!! Samsung is the best!!" He gives five stars.
Ivy Hawk makes the point I would otherwise: "If you're going to make a series of commercials and then release the game they advertise, you have to know significant quality is expected. This game is nothing more than another poor ripoff of Robot Unicorn Attack".
Michael Welch, who gives five stars, is more forgiving: "Have a sense of humor people. Games based on TV shows and movies are universally bad. Did you really expect a game based on a TV commercial to be perfect? Yes it has bugs but it is mildly entertaining and at least has novelty value. Ironic how many of the complainers here are using HTC, LG, and Motorola phones. Maybe that's your problem. You need a Samsung!"
And you? What do you think? I'll give Unicorn Apocalypse a go later. Right now, my wife asks I get off the computer and go outside. What? There's life out there?