Givit takes on music videos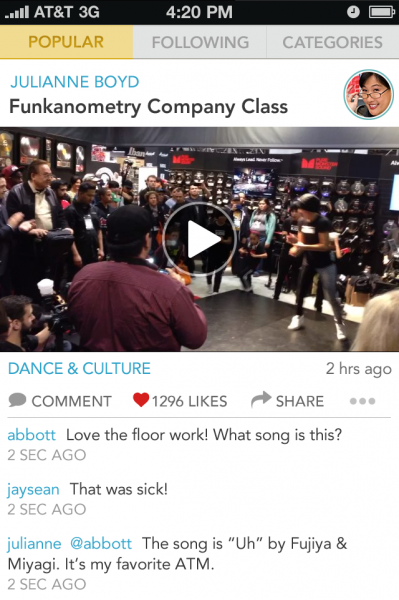 Social sharing and video-editing service Givit gets more musical, in an announcement made during SXSW in Austin today. The Givit app is exclusive to iOS and seeks to be to videos what Instagram is to photos.
The new focus is all about music videos or setting moments to music, and iPad, iPhone or iPod touch users shooting, editing and sharing the creations -- straight from the device. "Anyone can now create an amazing music video or reimagine their favorite moments right from their iPhone, adding new clips, sound or transitions and share socially however they choose", Givit CEO Greg Kostello says.
Givit's strength is community, Kostello says, and the approach is similar to Instagram. But there's something Snapchat-like, too, only without the snipits expiring within 10 seconds. I say that because Givit provides tools for editing while recording, allowing, say, someone to stitch together snippets and share them online. Think instant video creation to share, like Snapchat, but without expiration, and tools for users edit and stitch on the fly. Kostello didn't say, but I immediately thought about concerts and a tool for fans.
With the update, Givit's focus is as much, perhaps more, about the artists than fans filming them. Like Instagram provides built-in community for photos, Givit provides something similar to musicians to create profiles, post music videos, provide tour dates and even encourage fan remixes. Givit partners with PledgeMusic, which has a rep for helping new artists get started and funded. Think of it as fan crowdfunding for musicians.
Givit's music project is ambitious. While SXSW is appropriate venue to launch, I wonder: Is it enough, given the number of other social communities available to artists? That said, Givit also wants to be the tool used to reach Facebook, Twitter and, of course, YouTube, where artists might have existing fan communities.
"Givit empowers artists to supercharge their fan bases with the power of video", Kostello claims.
I asked Kostello about an Android version of Givit, and there is none coming -- at least not anytime soon. Video-editing benefits from hardware acceleration, which Apple makes available to iOS developers on iPhone and iPad.
By contrast, the capability is available on some Android devices but not others. The platform is simply too fragmented -- there are too many manufacturers and devices to support -- to justify the enormous amount of time and commitment to make Givit work, Kostello says.
So I asked about Windows Phone, which does support hardware acceleration. While sounding open to Givit there, he observes there is much sales volume -- and he's right about that. There were just 6.2 million Windows Phones sold during fourth quarter, according to Gartner. That compares to 43.5 iPhones and 144.7 million Android smartphones.
So for now Givit is an Apple-device exclusive. The service is free, with 5GB cloud storage. Users can expand to 100GB for $29.99 per year.