Samsung launches Galaxy S IV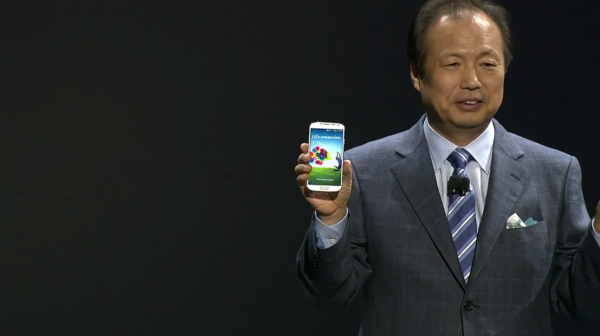 Live from New York, it's Samsung Unpacked! This evening at 7 pm EDT, Samsung officially rolls out its highly-anticipated flagship smartphone, and we're there (via live stream). It's not like being present exactly, but close enough.
All times are Eastern for this post, which is in reverse chronological order (e.g., newest first). I also recommend companion story "Why Apple fears Galaxy S IV".
7:59 pm. As the event closes there are 393,000 people watching the live stream.
7:56 pm. "S View Cover" in an accessory that protects the phone while also presenting some info at a glance.
7:54 pm. "S Health" tracks your activity, such as calorie usage. There's also monitoring of heart rate, blood pressure and sugar level.
7:52 pm. "Air Gesture" lets you control the phone without touching it.
7:51 pm. "Dual Video Call" is -- say what? You can make a call using both cameras, so the recipient can see you and others.
7:49 pm. "Group Plays" turns one group of phones into one large 5.1 sound system and supports up to eight Galaxy devices. Feature supports multi-player games as well and works with as few as two phones (to make like 2.1 system).
7:47 pm. Galaxy S IV is the first Samsung smartphone with "Knox", the security feature announced last month. Knox separates personal and professional spaces, among other security features.
7:46 pm. WTH? The phone works when you're wearing gloves.
7:44 pm. Other personal assistant features include reading back messages, like when driving.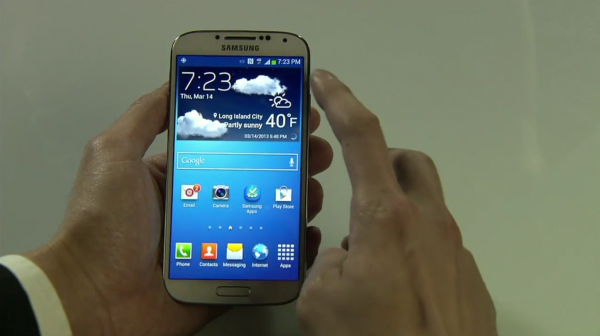 7:43 pm. "Smart Switch" uses the PC as go-between to change devices.
7:42 pm. "S Voice Drive" is a customized version of S Voice for the car, which presents fonts and other visuals larger.
7:39 pm. Dual-camera record! Wow! You can shoot video from both cameras at the same time and insert yourself into the whole video.
7:38 pm. "Story Album" creates photos and places them into story photo albums. There is support for tags and social sharing.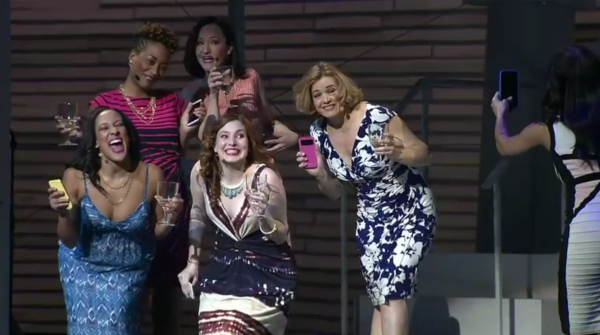 7:37 pm. "Adapt Display" adjusts contrast, lighting, etc. for all kinds of content.
7:35 pm. "S Translate" is like a Star Trek universal translator. It understands 9 languages and supports text to speech and speech to text. Languages include English, French, German, Japanese and Korean. There are 3,000-embedded sentences for when there is no network connection.
7:33 pm. "Eraser" allows you to remove unwanted objects from photos.
7:31 pm. "Drama Shot" can capture 100 frames in four seconds and from that pick the best shots.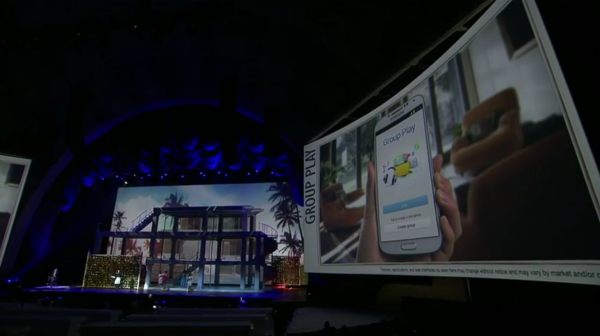 7:26 pm. Wow, the battery is 2,600 mAh removal battery and removable.
7:25 pm. Device has 13-megapixel rear- and 2MP front-facing cameras, 2GB RAM, storage from 16GB to 64GB storage, which is expandable.
7:22 pm. Samsung's Ryan Bidan says the phone, with 5-inch display, is 441 pixels per inch.
7:20 pm. Samsung will roll out from 327 carriers in 155 countries, starting at the end of April, with 3G and 4G versions.
7:19 pm. The music makes the debut really dramatic.
7:19 pm. Here's the phone! Looks similar to Galaxy S III. But larger.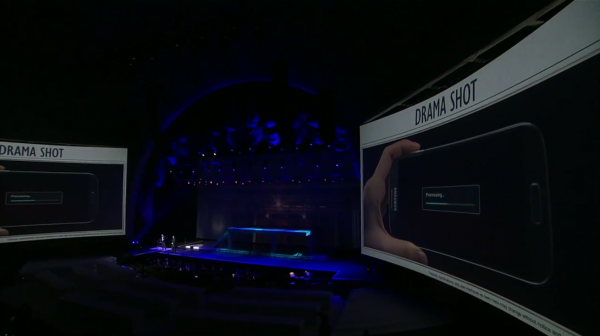 7:18 pm. Shin say the S4 is designed to help people "live the way they aspire to. For each of us life is a journey" and people want to bring their devices "on that journey".
7:16 pm. "Imagine touchless interfaces", Shin says. He talks about benefits exchanging data seamlessly. He promises a "perfect solution for work and play", securely.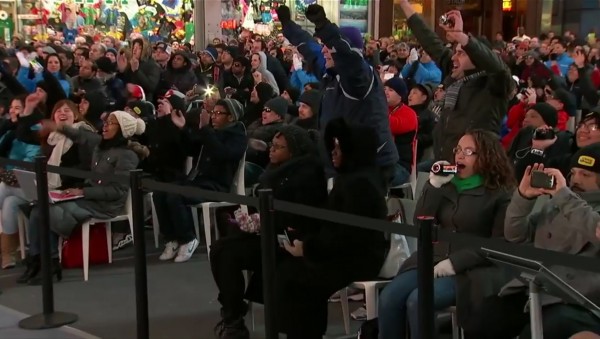 7:15 pm. JK Shin, a Samsung Electronics president, takes the stage.
7:13 pm. Will Chase is the MC. Jeremy Maxwell, the kid from the teaser commercials, has a box with the phone. He exits.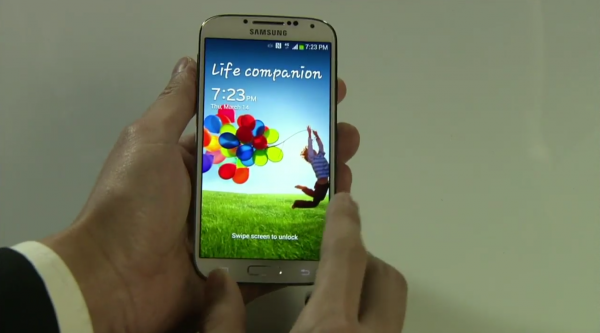 7:10 pm. Whoa, there's a live band! It is Radio City after all.
7:06 pm. Now 318,000 viewers. How many would Apple get for iPhone?
7:03 pm. Start is late and now 283,000 viewers, via YouTube.
7:00 pm. As the show starts more than a quarter million people view the stream.