Gmail for Android gets a whole lot better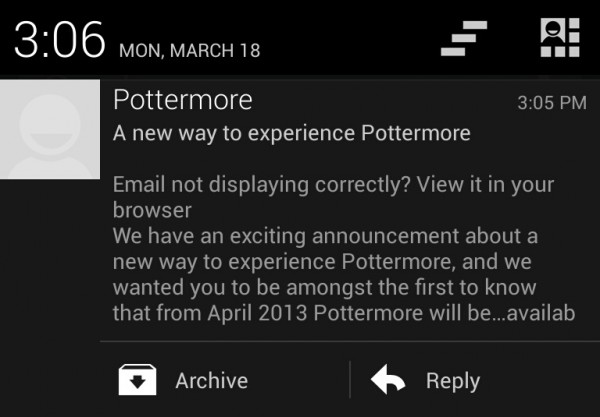 I'm no big fan of Gmail, which interface is overly-cluttered and uses arcane methods for managing messages. But I can tolerate the service on Android devices, where there are no annoying ads and more sensibly-presented core functions. Today, Google made Gmail for Android a little better, by way of the Notifications menu.
Small things often have big impact. Users can now reply or archive messages right from the Notifications bar -- fast and furiously. For people like me who happen to procrastinate email, perhaps there is a future with an empty inbox and all communications current. There's more.
"You can combine this with existing notification features like the ability to customize which messages you receive notifications for and set up different sounds for individual labels", Andy Huang, Google software engineer, explains. "So if you filter and label all the messages from your mom, you could set a ringtone to let you know you received a new mail from her and then quickly reply -- because we know what can happen when you ignore your mother!"
These features all require Android 4.1 or later. Google also improves search capabilities -- for Android 4.0 or more.
"Finally a feature I have been waiting for!" Alex Garipian comments on the product page. The Galaxy Nexus user gives the app five stars. "Deleting emails from the notifications bar! Excellent work Gmail team!"
Jojo Sandoval wants more: "Still needs work! Option to delete one email? Improvement! What about in batch? What about empty the trash?...C'mon Google you act like you dont know how. Add the features!"
Adi Peshkess and Gabriel Lowe also would like a delete option.
These folks are more forgiving than me. Did I mention that I hate email in general? Google gets more blame than deserved.
Email is an anachronism. There was a time when the inbox demanded attention, being one of the fastest ways to communicate using text. Snail mail takes too long, and telegrams are only a little better. My tendency is to respond to people based on immediacy. A person walking up to me deserves the most-immediate response. I feel the same about someone texting or chatting -- or even commenting on a social network post. Email, which delivers more junk than anything else, is a nuisance.
Today's update really should get me doing more, since I can right then and there in the Notifications bar. But I agree, delete would be an even better option. Perhaps Google thinks too much of its spam filter -- that most of the messages we get we want to do something with. I trash nine out of 10 messages. You?