Space invaders, save us from ourselves! Google adds animated-gif search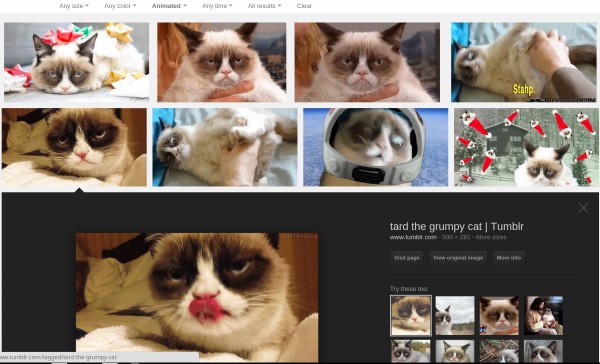 When I first started using the web full time 19 years ago, few pages had movement. Then browsers supported animated gifts, which on many sites were gaudy things. You could count on them to add a touch of crass, no class, to any webpage. MySpace anyone? My disdain, and I'm not alone in this, for animated gifs goes back nearly two decades.
Funny thing, the moving clips are in-style thanks to better authoring tools and social sharing. Many animated gifs are still gaudy, but who really minds getting one as a joke from friends. Now they're easier to find using the planet's most popular search engine.
"Starting today, there's an easier way to unearth those gems: when you do an image search, click on 'Search tools' below the search box, then select 'Animated' under the 'Any type' dropdown box", according to Google.
The search and information giant calls animated gifs the "de facto standard for short animations on the web". Cough. Cough. Someone save us. But I must confess to having a good laugh (and wasting too much time) clicking "Grumpy Cat" animations from Google search. In December, I named the beast "Meme of the year" for 2012.
Google does more: "We've also added a second handy filter: if you're after the perfect picture of Easter basket clipart (goo.gl/XutAa) but must have one with a transparent background, simply select 'Transparent' under the 'Any color' dropdown box".
Well, Google search respects few copyrights anyway. So right now, alongside farting cats for your Facebook Wall, you can steal transparent gifs, too -- and dress up your social network feed, Tumblr or other online presence.