openElement WYSIWYG HTML editor mini-review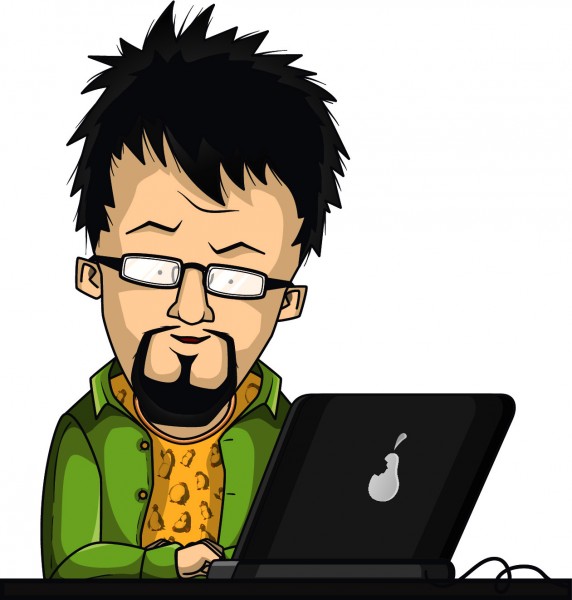 We're a little skeptical of "free" WYSIWYG HTML editors. Most are either outdated, too basic or packed with adware (and some manage to be all three). OpenElement claims to be different, though: " a powerful next-gen HTML editor" with "no ads, no restrictions, no experience necessary", meaning that a "professional and dynamic website is within reach to anyone with zero coding". Sounds great, so we decided to take a closer look.
Installation is easy, and the program really doesn't have any adware or other hassles. There is no commercial version, you don't have to register, there are no nag screens or anything else. The "worst" we see is a tiny "Contribute" icon on the many window, so small and unobtrusive that you may not notice it for a week, and a suggestion on the "Publish" dialog that you use their partner for your hosting (but that's easy to ignore, if you like).
The program opens with an appealing web-like interface, clean and straightforward. And you're prompted to create either a new project, or choose from a range of templates. These are quite complex, lots of color and graphics, more suitable for personal than business use. But most do look quite good, as least for this type of site; you can preview them online before you start; and there are a few more minimalist templates on offer, if you look carefully.
Opening a sample template reveals multiple pages, and you can switch between these using a Site Explorer panel, or just by clicking tabs at the top of the site window. And making basic template changes is fairly easy. In just a few minutes you can change text, add your own images and more.
Try to move on, though, and life gets more complicated. Our tab has sites labelled "Menu", for instance -- how to customize those? Clicking them displays an option to "open the layer containing this element": not so clear to beginners. And clicking this doesn't help, either. No "menu designer" dialog pops up, and if you're a web design beginner than it won't be at all obvious how you can make this work.
If you do have more web design experience, though, it will be a little different. OpenElement supports lots of different page elements -- text, images, tables, links, tree views, menus, forms and so on. You can add Flash animations, HTML5 or YouTube videos, Google Maps, a PayPal button, and even unexpected extras like a "disable right click" option. Just drag and drop these onto a page, organize them as you like, and click "Preview" occasionally to make sure all is well.
Exploring the menus further reveals lots of other useful options (again, if you're experienced). So the Project tab has options to edit your .htaccess file, for instance, or add a FavIcon. And the Resources tab not only provides folders to hold the images, Flash, video, audio and other files for your site, but even has a tab where you can access fotolia.com to, say, find more photos for your site.
And once you've finished all this, an extremely comprehensive "Publish" dialog helps you get everything online (the program can generate a sitemap file, a robots.txt, help with translations support, and upload everything to your FTP server).
Even if you're a knowledgeable user, though, there will be issues. The program isn't always intuitive, for instance. Right-click a page object and you might expect a "Properties" option, or at least quick access to all the things you can do with that element -- but this doesn't happen. You may have to left-click an object, then click the separate Properties tab to get more of a clue (and sometimes even that will tell you "no element selected").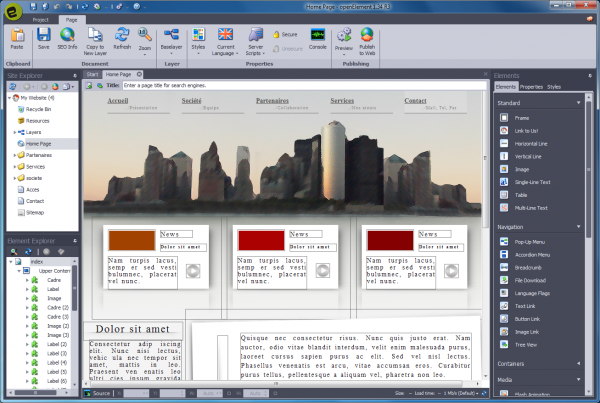 There are plenty of options to create and customise your site
There are translation issues, too. Remnants of the original French pop up here and there: "Nouveau Project" isn't difficult to guess, but "Parcourir" is less obvious for non-French speakers.
On balance, then, the program is going to be too complex for most web design beginners. And everyone will have to struggle occasionally to find their way around the interface, and figure out what's going on.
But that doesn't make openElement a bad program. It has far more scope and range than most free HTML editors, while also avoiding the usual toolbars, ads and more. The program has lots of templates, supports all kinds of page elements, and if you know what you're doing, could be a very good website creator. We'll be interested to see how it develops in future.
Photo Credit:  YuanDen/Shutterstock