Come April 4, Facebook gets a "new home on Android"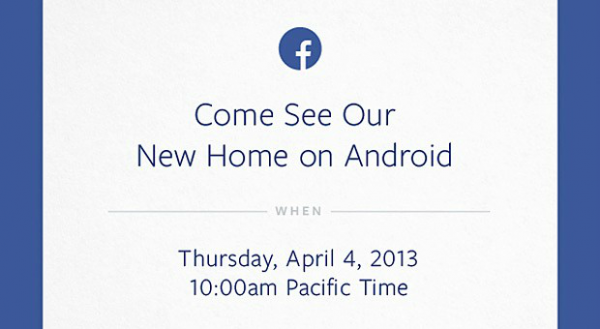 They say April showers bring May flowers. What will Facebook's April 4 event bring? Late today the social network reportedly invited blogs and the news media to "come see our new home on Android". I'm not on the social network's guest list and can only report that based on those who got the invite, everything looks legit and tantalizing.
That's because no one can resist speculating or claiming that some unnamed source -- sorry, your buddy in the next bathroom shouldn't count -- promises debut of the long-rumored, oft-denied, ever-elusive and Google-gauging Facebook phone. Running Android! My God, the irony, the rumor wide-eyed profess. Hey, dudes, what if the new home is a tablet? Like Amazon does with Kindle. Or there's no phone at all?
Oh, but the force of meme-will is the social smartphone. It's what everyone will believe by the time Easter Monday passes, unless there is some snarky April Fool's joke meantime, like: "Today Facebook agreed to acquire Microsoft, and Bill Gates-wannabe Mark Zuckerberg promised to fire Steve Ballmer as his first official act".
For now the rumor rabble runs wild at the mouth, citing the not-to-be-named-and-shamed guy cleaning the toilet as source Facebook will launch an Android phone made by HTC. Ha! Could this be the real reason for the HTC One's delay. The HTC Facebook One?
Tongues will wag, and it's anyone's guess, and lots of people will. I'll wrap with none but wonder about April Facebook showers -- raining down on competitors -- bringing a May device, if any. Rumormongers cried wolf so many times, I'm ever the skeptic.
Thanks to Engadget, from which I lifted the invite above.