Google brings new compose message box to all Gmail users, like it or not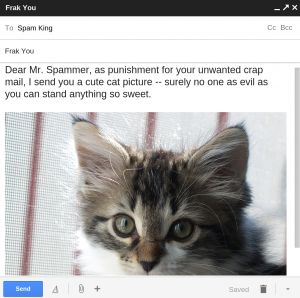 Say, you know that new pop-up compose message box Google introduced last autumn. You don't? Well, get ready. Gmail is giving the ditty to everyone, whether or not wanted. That's what it looks like, in photo right.
"The new compose will be rolling out to everyone over the next few days", Phil Sharp, Gmail product manager, says. I've used the thing since October, in a sort of love-hate thing. On a laptop working in Chrome -- even better, on Chromebook Pixel -- the new compose box is great. On Surface Pro, using Internet Explorer 10 from Modern UI, the thing is unusable. The box flicks up and down from the bottom of the screen.
We're all guinea pigs in the Google lab, and Sharp praises our rodent brains: "In addition to telling us what you love about the new compose experience (like how much easier it is to multitask!) you've also been sending us helpful suggestions for what features you'd like to see added. As a result of your input, we're now ready to introduce the new compose experience as the default for everyone. We're looking forward to hearing what you think!"
I do appreciate the ability to compose a message and work in the inbox at the same time. It's good to see Google catch up with email features I first used in the 1990s.